Looking to regain your pre-pregnancy body with a mommy makeover?

Get in touch with Dr. Adam Tattelbaum, an experienced, board-certified plastic surgeon.

Our offices are in Rockville, MD, and McLean, VA. We welcome patients from all over Maryland, northern Virginia and Washington DC.
"A mommy makeover generally refers to combining the most common surgical procedures we perform to restore a woman's body after childbearing.
For example, it may include an augmentation, lift, or reduction of the breasts, depending on the effects of childbearing. It may also include a tummy tuck or liposuction, depending on how loose the abdominal skin has become after pregnancy. Other parts of the body can be addressed too.
On this page, I'll explain everything you need to know about mommy makeover procedures."
Written by Dr Adam Tattelbaum M.D.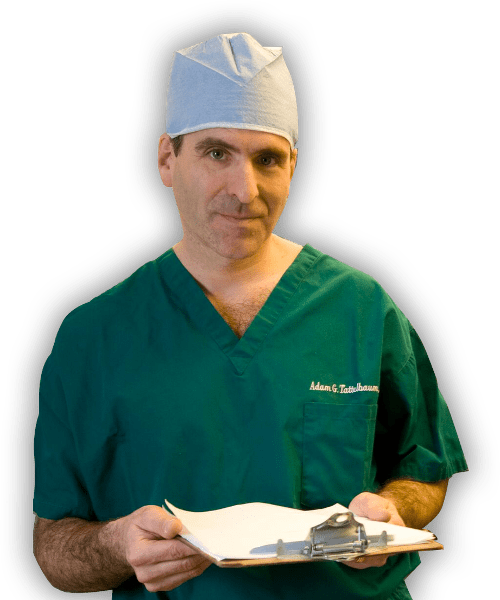 Why choose Dr Tattelbaum?
Double board-certified plastic surgeon
Member of the American Society of Plastic Surgeons
Member of the American Society for Aesthetic Plastic Surgery
Listed in "America's Top Surgeons" by the Consumer Research Council of America
What is a mommy makeover?
A mommy makeover combines several common surgical procedures to restore a woman's body after childbirth. As a minimum, it usually includes work on the abdomen and breast surgery. Further work may be completed on the arms, bottom, face, and genitalia.

The birth of a new child is a beautiful occasion for all involved. However, the mother's body can change significantly through pregnancy, childbirth, and breastfeeding. Mommy makeover surgery can help reverse the visible signs of these changes.
What are the benefits of a mommy makeover?
As a mommy makeover is highly customizable, with different procedures included based on budget and objectives, the benefits can vary. Nonetheless, the overarching benefits, regardless of procedures, are as follows:
Resolve multiple problem areas at once

Discounted prices (surgeons often provide discounts for patients who combine multiple procedures)

One surgical session followed by one recovery period, rather than splitting up into multiple sessions (this also helps keep costs down)

Helps restore pre-pregnancy appearance with a more youthful figure

Removes excess fat, sagging skin and stretch marks from the abdominal area

Alter breast size and volume
Am I a suitable candidate for a mommy makeover?
Generally, mommy makeovers are performed on healthy, non-smoking women who are at least six months post-pregnancy. This gives time for the uterus to shrink and the body to heal.
Occasionally, the same surgeries may be performed on patients with significant weight loss regardless of pregnancy status.
What weight should I be before surgery?
It is always best to be at a healthy weight before surgery. But your weight should also be realistic and sustainable long-term.
Starving yourself before surgery is a bad idea. Firstly, because without good nutrition, you won't heal properly and, secondly, it leads to unnatural weight changes that you cannot sustain.
It's recommended patients are within 10 pounds of their goal weight before mommy makeover surgery.
What's usually included in a mommy makeover procedure?
A mommy makeover often includes work on the breast and abdomen. Furthermore, many choose to include work on other parts of the body and face. It largely depends on the problem areas a patient has identified following childbirth.

For example, the breasts, including the areola, may have grown in size and started to sag or point downwards. Their appearance is vastly improved by inserting implants (breast augmentation), lifting their position (breast lift), or reducing their size (breast reduction).

Obviously, the tummy (abdomen) naturally stretches and increases in size during the nine months of pregnancy. Women who are near their target weight but are struggling to shift the last bit (or simply have excess skin left over from the pregnancy) may be suitable for a tummy tuck or liposuction.

Finally, a mommy makeover may include several additional surgeries. For example, a facelift can tighten the facial area, a browlift can remove wrinkles from the forehead, a Brazilian Butt Lift can rejuvenate sagging buttocks, and brachioplasty can remove excess skin from the upper arms.
Yes, a mommy makeover is likely to leave some scars due to the procedures performed. A particularly invasive procedure, like breast augmentation, is more likely than others to leave scarring.

This is something you need to be willing to accept before cosmetic surgery. You can, of course, discuss the likelihood of scarring with Dr. Tattelbaum at length in your consultation to understand what's likely to happen and where. We also have examples from other mommy makeover patients that you can view.
Should I wait until I'm done having children?
Yes, you should wait until you're done having children before having a mommy makeover as bearing another child will impact the surgical results, making the procedure a waste of your time and money.
Learn more about
when it's the right time for a mommy makeover
.
Will a mommy makeover remove pregnancy stretch marks?
A mommy makeover can help to remove the stretch marks caused by pregnancy if it includes surgeries that remove and tighten loose skin. So in order to remove stretch marks, you may wish to include a tummy tuck and a breast lift in your mommy makeover.
Will I be thin afterwards?
A mommy makeover can not make a full-figured person rail thin, but it can certainly make that patient more streamlined.
How much does a mommy makeover cost in Maryland?
A mommy makeover tends to be an expensive procedure due to the stacking together of multiple procedures. And because so many options are available to patients, the exact cost will depend on the chosen procedures.
However, we understand that cost is a primary concern for many people and we want to make it as easy as possible for you to calculate an estimate. As such, we've listed the fees for surgeries most commonly included in a mommy makeover treatment plan. Please note these all-inclusive fees include the costs of the surgery, the facility, the anesthesia, and the follow-ups.
| Procedure | Cost |
| --- | --- |
| Initial consultation | No fee |
| Breast augmentation | $7,500 |
| Breast lift: | $9,900 |
| Breast reduction | $10,900 |
| Tummy tuck | $9,600 – $12,000 |
| Liposuction (first site) | $5,000 |
| Liposuction (each additional site) | $4,000 |
As you can see, there's a lot of room for picking and choosing the most appropriate procedures. If needed, our staff can advise you on financing options.
"I was very nervous about the procedure but Dr Tattlebaum made me feel at ease and I completely trusted his judgement. I would absolutely recommend him to anyone."

Haleyanne B.
Mommy Makeover Preparation
The standard preparatory advice for any patient is as follows:
Note down your objectives, concerns, and questions for Dr. Tattelbaum ahead of the consultation

Stop smoking, reduce alcohol intake, and maintain a healthy diet in the weeks leading up to surgery

Stop taking any medications that may interfere with the surgery and recovery (Dr. Tattelbaum will discuss this with you in the consultation)

Exercise regularly and get plenty of rest, this proactive approach will aid recovery afterward

Organize for someone to take you home and stay with you for a few days after surgery

Prepare several meals in advance, so you don't have to exert yourself after surgery
There's no way around it – the recovery process from a mommy makeover is tougher than almost any other cosmetic procedure, due to the combination of procedures.
By working on several areas at once, the body has to work extra hard to recover.
We'll provide items and post-operative care instructions to aid recovery in the first few weeks, including compression garments, medical prescriptions, cleaning and massage advice, and regular checkups.
And the less you do, the better. Take 2-3 weeks off work. Continue to avoid smoking. Eat a healthy, balanced diet, drink lots of water, and get as much sleep as possible. You'll have to avoid exercise for a while, but Dr Tattelbaum will advise when you can step up the physical activity.
It can take 6-12 weeks to recover in full, depending on the procedures included. Plus, the full impact of the makeover will not be clear for several months as your body adapts and swelling subsides.
Want to see before and after pictures from our previous mommy makeover patients?
Patients seeking a mommy makeover can attend our practice in Rockville, MD, or McLean, VA. We serve patients across Maryland, northern Virginia and Washington DC.
To schedule an appointment for a mommy makeover, please get in touch today.

The consultation lasts for roughly one hour. Dr. Tattelbaum will evaluate your health and starting situation, and answer any questions you may have.
See our selection of body contouring procedures below.
Arm lift surgery targets the fat in the patient's upper arms and removes excess fat cells to leave a slimmer overall appearance.



BBLs have grown in popularity in recent years. They're designed to enhance volume and shape by transferring the patient's own excess fat from one area of their body to the buttocks.
Liposuction is a minimally invasive procedure that removes excess skin and fat from specific areas of the body, achieving a slimmer and more toned appearance.
This tends to involve a series of procedures to remove the excess skin and fat that's left behind after a period of significant weight loss.


Also known as abdominoplasty, a tummy tuck can be a great option to remove excess skin and fat from the stomach area, also achieving a more toned midsection.