Dr. Tattelbaum is an experienced, board-certified plastic surgeon offering chin implants in Maryland and nearby areas.
3203 Tower Oaks Blvd, Suite 200
Rockville, MD 20852
(301) 804-6832
"A chin implant is a molded piece of plastic or silicone used to increase the height or projection of the chin. The addition of volume, height, and projection can give balance to features in the upper face.

For example, sometimes a patient with a prominent nose will also have a weak chin.  Rhinoplasty can reduce the nose, but adding a chin implant may provide even better facial balance.

In a patient with a fleshy neck, the projection of the chin can sometimes enhance the neck angle making the profile stronger.

In men, the chin is generally even with the projection of the upper lip. In women, the chin is slightly behind this plane. We use these guidelines when trying to pick the correct size chin implant."
Dr Adam Tattelbaum M.D.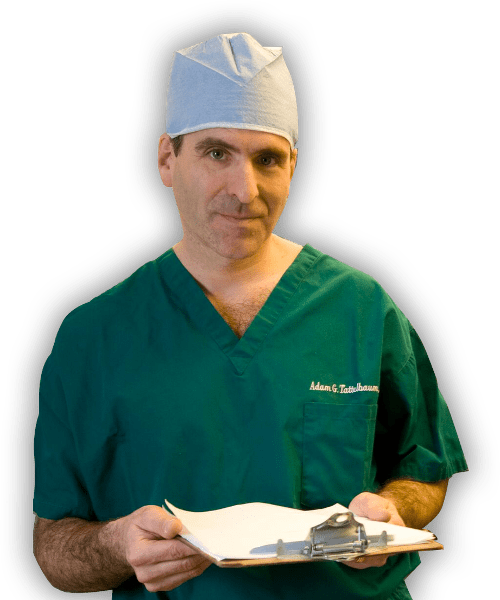 Why choose Dr Tattelbaum?
Double board-certified Maryland plastic surgeon
Member of the American Society of Plastic Surgeons
Member of the American Society for Aesthetic Plastic Surgery
Listed in "America's Top Surgeons" by the Consumer Research Council of America
A chin implant is a surgical procedure to enhance the chin by increasing its height, volume, or projection. This is done by placing an implant in the chin to achieve a better balance in line with other facial features. You may see chin implant surgery referred to as mentoplasty, which is an umbrella term covering any chin-related procedure.
Chin implants are made of different materials, such as silicone, medpore, Gore-Tex, or hydroxyapatite (a type of bone graft material). The most common types of chin implants are made from either solid silicone or medpore – a porous plastic that tissue grows into. Both can be molded and come in various shapes and sizes.
For more information about chin implants in Maryland, get in touch to organize a consultation with Dr Tattelbaum. During the consultation, we'll discuss your goals and any concerns you may have. Dr Tattelbaum will also perform an examination to ensure that you are a good candidate for chin augmentation.
Dr Tattelbaum's Perspective
"There have been different materials used for chin augmentation in the past. Today, the most common are solid silicone and medpore. I personally prefer the silicone implants because they are softer and easier to get in. Medpore has a grittier surface and can be harder to slip in place. Medpore implants often come in two pieces that are assembled at surgery."
How does chin implant surgery work?
Chin implant surgery is a relatively simple procedure that can dramatically improve the appearance of the face. The surgery is performed through a small incision made either inside the mouth or under the chin. Once the incision is made, the implant is inserted and positioned against the existing bone. The next step is to secure the implant in place with screws or sutures. Finally, the incision is closed with stitches and a bandage is applied.

The entire surgery usually takes less than an hour to complete and patients can typically return to their normal activities within a week.
Dr Tattelbaum's Perspective
"When it comes to placing a chin implant, I tend to favor the "under the chin" approach. There is a greater risk of infection when the implant is placed through the mouth. Plus, in some cases, the implants can wind up too high or alter some of the muscles, which can affect the position and motion of the lower lip. Going in from underneath the chin minimizes these issues.

In special cases, I will fix the implant through the jaw with a pin or screw. But in most cases, the implant is placed in a pocket that we create just above the bone."
How much do chin implants cost in Maryland?
The cost of a chin implant consists of our fees (including the surgery, the anesthesia, and the facility), plus the cost of the implant.

The cost of an implant can vary, and various options will be discussed with you during an initial consultation.

The total cost of our fees is $4,900. Just to be clear, this includes everything but the cost of the implant itself. We offer financing options if required.
To prepare for a chin implant, we recommend the following:
Note down your objectives, concerns, and questions for Dr. Tattelbaum ahead of the consultation
Stop smoking, reduce alcohol intake, and maintain a healthy diet in the weeks leading up to surgery
Exercise regularly and get plenty of rest, this proactive approach will aid recovery
Organize for someone to take you home after surgery
You may need to eat soft or liquid-based foods after chin implant surgery, so it can be useful to buy several options in advance (e.g. smoothies, soups, and yogurts).
The recovery from chin implant surgery is quick. Naturally, as with any surgical procedure, there will be some swelling, soreness, and bruising. However, most patients take less than a week off work.
The swelling and bruising will subside in a few weeks. Patients often resume normal activities by the end of the second week.
That said, for the first few months, many patients report feeling like the chin doesn't belong to them. Some report their lips feeling strange. These sensations will subside as the tissues relax and stretch over time.
Here are some further pointers about the recovery process:
A dressing will be applied once done, this should be kept in place for a few days
Follow a liquid diet initially and gradually move onto soft foods during the first week after surgery
Take the prescribed medication and painkillers to combat any soreness
Avoid physical activity and strenuous work for 1-2 weeks
Eat a healthy, balanced diet, drink plenty of water, and get as much rest as you can
Am I a suitable candidate for a chin implant?
The ideal candidate is in good health and has reasonable expectations of the surgery. Individuals should not undergo a chin implant if:
They are in poor general health
They suffer from cardiac issues
They take anticoagulants
Dr Tattelbaum's Perspective
"Not everyone is a candidate for chin implant surgery. During the consultation, I evaluate the shape of the underlying bony structure. Chin implants require a stable base to be placed upon, and the slope of the existing chin must ensure that the implant will achieve the desired goals.

In some cases, patients may be better off with more aggressive jaw surgery to reshape the mandible or help with the alignment of the teeth. Sometimes bony correction of the jaw is necessary. In the consultation, I guide my patients toward the option that makes the most sense."
What are the risks of chin implant surgery?
Chin augmentation is associated with very few complications.

However, it's important to understand the potential risks, even if they're rare. These include poor scarring, hematoma, infection, asymmetry, and side effects from anesthesia. In addition, the lower chin has sensory nerves that exit the jaw where the implant is placed, so the utmost care is taken to try and avoid injuring these nerves.

As a board-certified plastic surgeon, it is Dr. Tattelbaum's goal to help you understand these risks, but more importantly, to help minimize them.
How long does chin implant surgery take?
Inserting a chin implant takes about one hour to complete in most cases.
It can be combined with other procedures, though, such as a neck lift,
rhinoplasty
, or
liposuction
, which would increase the total time in the operating theatre.
We have two offices. One is in Rockville, Maryland. The second is in McLean, Virginia.

Our locations mean we can perform chin implants for patients in Maryland, Northern Virginia, and Washington DC.
"Dr. Tattelbaum and his staff were fantastic from start to finish. He made me feel completely comfortable throughout the process, spent the time to answer all my questions, guided me well and made the decision so easy for me. I am 5 months out and beyond thrilled with my results. I could not have had a better experience. My only regret is not doing it sooner."
Schedule your chin implant consultation
Please get in touch today to schedule a free, no-obligation consultation for a chin implant in Maryland.
The consultation lasts for roughly one hour. In the consultation, Dr Tattelbaum will evaluate your health and starting situation. He will answer any questions you may have and cover the risks, benefits, and alternatives.