Dr. Adam Tattelbaum offers facelift procedures for patients in Maryland, Northern Virginia and Washington DC, from his offices in Rockville, MD, and Mclean, VA.
Book a free consultation with Dr. Tattelbaum to learn more.
Facelifts are a transformative cosmetic procedure, helping to restore a more youthful appearance to the face. But given how delicate and important the face is, it's vital to choose a highly experienced surgeon.

With years of successful facial surgeries under his belt, Dr. Tattelbaum has the expertise and skill necessary to help you achieve your desired results.

Whether you're looking to address sagging skin, wrinkles, or other signs of aging, Dr. Tattelbaum can work with you to develop a customized treatment plan that meets your unique needs and goals.

At our practice, we understand that choosing to undergo a facelift is a big decision. That's why we offer free consultations with Dr. Tattelbaum, so you can learn more about the procedure and decide if it's right for you.

So why wait? Contact us today to get started.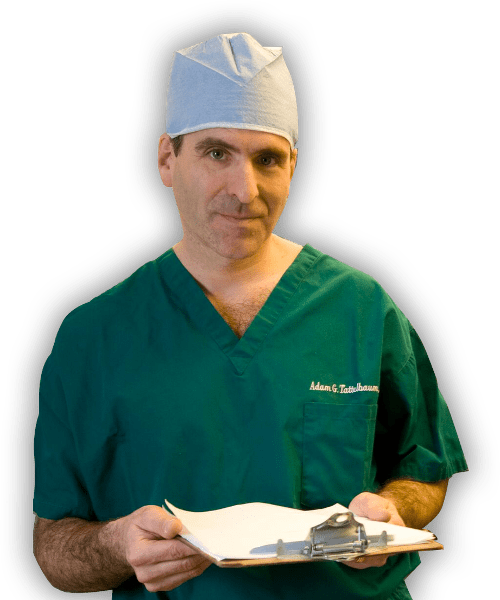 Double board-certified Maryland plastic surgeon
Member of the American Society of Plastic Surgeons
Member of the American Society for Aesthetic Plastic Surgery
Listed in "America's Top Surgeons" by the Consumer Research Council of America
A facelift, or rhytidectomy, involves removing excess facial skin and fat from the face and neck. This can help create a more youthful appearance, minimizing visible wrinkles and jowl lines.
The difference can be subtle or dramatic, depending upon the desires of the patient and whether or not they are an acceptable candidate for the procedure.
Keep in mind that surgery cannot stop the aging process, but it may "turn back the clock" by several years. By removing excess skin, tightening the facial contours, and reducing fatty deposits, some of the signs of aging can be removed and reduced.
There are several types of facelifts available, each with a slightly different purpose and outcome. The right option for you will depend on your starting situation and goals. Following a consultation, we will recommend the right type of facelift for you. 
Full facelift: This procedure lifts and tightens the whole of the face and neck region through incisions around the ears and hairline.
Mini facelift: This is a less invasive version of the full facelift that involves smaller incisions and focuses on the lower face and neck.
Mid-facelift: This procedure targets the cheeks and under-eye area.
Lower facelift: This procedure lifts and tightens the area around the jowls and neck.
Thread lift: This minimally invasive procedure uses sutures to lift and tighten the skin and underlying tissue.
Fat transfer: This procedure adds and restores volume by harvesting fat from one area of the body and injecting it into the face.
As you would expect, given the range of options for a facelift (see above), the recovery process and timescales can differ substantially.

Most facelifts will result in a 2-3 week initial recovery period, whereas less invasive procedures (like a mini facelift) may only take 1-2 weeks.

Regardless, during your recovery, you'll experience swelling, bruising, and some discomfort. You'll also need to avoid strenuous activity and anything that may cause your blood pressure to rise.

We'll explain all of this to you during a consultation, so you know exactly what to expect following your facelift and how to care for yourself post-operation.
Frequently Asked Questions
Facelift surgery is an outpatient procedure performed at an accredited surgical center. While no surgery is entirely risk-free, in general facelift surgery can be performed safely by fully trained plastic surgeons who endeavor to minimize risk, control for complications, and try to achieve the best-desired outcome.
What is the best age for a facelift?
There is no definitive answer to this question, unfortunately. Patients should be evaluated on a case-by-case basis, with factors such as skin quality, lifestyle, and genetics all playing a part.

Generally speaking though, patients who are in good health and have good skin elasticity may be good candidates for a facelift once the face begins to show clear signs of aging (usually in their 40s, 50s, or 60s).
All surgical procedures leave a scar, and a facelift is no different. Fortunately, though, with a facelift, the incisions are generally made in areas which can be easily hidden – such as the hairline and behind the ears.
How long will it take to see results, and how long will they last?
You'll start to see the results of your facelift within a few weeks of the procedure. But, typically, it can take several months for the full results to become apparent as the swelling subsides and the skin settles into its new position.

These results will then last for several years. It's difficult to say exactly how long, as it depends on age, skin quality and care, and lifestyle, but many patients report a lasting effect of around 5-10 years.

On a final note, keep this in mind: A facelift might have a larger upfront cost than other facial rejuvenation options, but it provides the most impactful and cost-effective results, given the longevity of its effects.
Can I get a non-surgical facelift?
A non-surgical facelift aims to rejuvenate and enhance the appearance of the face without the need for surgery. It typically involves the use of various non-invasive or minimally invasive techniques to address signs of aging, such as wrinkles, sagging skin, and loss of facial volume. We offer several options for a non-surgical facelift at our practice, including:
Dermal fillers: These are injectable substances, such as hyaluronic acid, that are used to restore facial volume, reduce wrinkles, and address problem areas of the face. Find out more about our dermal filler treatments.
Botox: Botulinum toxin, commonly known as Botox, is a neurotoxin that is injected into specific facial muscles to temporarily relax them. This can smooth out wrinkles and fine lines caused by repetitive facial expressions, particularly on the forehead and around the eyes. Find out more about our Botox treatments.
Please note, however, that the results of non-surgical facelifts are temporary, so maintenance treatments are required to sustain the effects.
We have two offices – one in Rockville, MD, and one in McLean, VA. Most of our patients come from Maryland, northern Virginia and Washington DC.
Schedule a free consultation
If you're interested in a facelift, the next step is to schedule a consultation with Dr. Tattelbaum.
The consultation lasts for roughly one hour. In the consultation, Dr. Tattelbaum will evaluate your health and starting situation, discuss your medical history, and answer any questions. Plus, we'll cover the risks, benefits, and alternative options.