Breast Reduction Maryland
Reduce the size of large breasts with breast reduction surgery by Dr. Adam Tattelbaum, an experienced, board-certified plastic surgeon.
We have offices in Rockville, MD, and Mclean, VA, meaning we're well placed to serve patients in Maryland, Washington DC, and northern Virginia.
Book a free breast reduction consultation to learn more.
"In my practice, perhaps the most satisfied patients are those whose breasts I make larger and those whose breasts I make smaller. I think in each case, patients are striving for a sense of balance.
For my patients considering breast reduction, it is more than that, though. The extra weight they carry is a burden, and often a painful one at that. Women with large, pendulous breasts can experience back pain, shoulder pain, restriction of physical activity, skin irritation and often feelings of extreme self-consciousness.
The idea of breast reduction surgery is terrifying for most women. I find that my patients, young and old, have contemplated it for years before they have worked up the courage to even have a consultation.
But, postoperatively, when the fear subsides, and the reality of the surgery has set in, it is one of the operations I find most gratifying.
On this page, I will explain more about breast reduction surgery and answer some of the most common questions patients have asked me."
Written By Dr. Adam Tattelbaum M.D.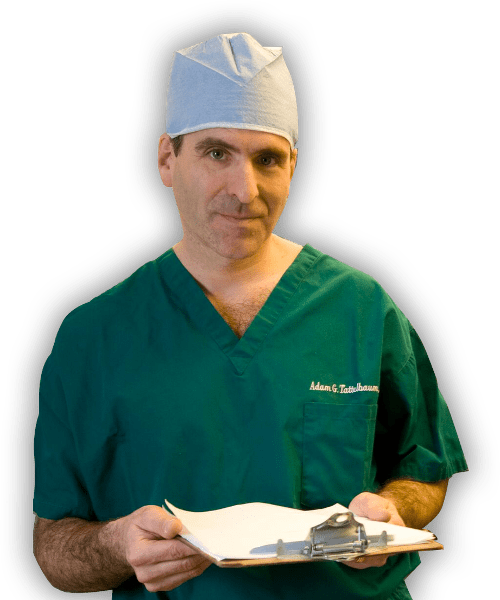 Why choose Dr Tattelbaum?
Double board-certified plastic surgeon
Member of the American Society of Plastic Surgeons
Member of the American Society for Aesthetic Plastic Surgery
Listed in "America's Top Surgeons" by the Consumer Research Council of America
How Is A Breast Reduction Performed?
Breast reduction surgery, sometimes referred to as reduction mammaplasty, removes excess fat, tissue, and skin from a woman's breasts. The procedure can help combat muscular pain and fix breast asymmetry.
It is a common procedure that can be combined with other forms of breast surgery for a more comprehensive change in appearance, such as augmentation or a lift.
There are two main methods: the wise pattern and a free nipple graft.
The most method type of breast reduction is the wise pattern. Sometimes the wise pattern is referred to as an anchor or a keyhole reduction because of the incision patterns.
Incisions are made around the areola, then along a straight line down to the bottom of each breast, and, finally, horizontally along the natural breast crease.
The wise pattern allows the surgeon to remove more breast tissue and excess skin than any other type of reduction. As such, it's generally better for patients with extremely large, sagging breasts that require a more comprehensive solution.
In most breast reduction patients, the nipple and areola are left attached during surgery. However, in cases where the breast is excessively large or sagging, it can be safer to remove the nipple and replace it, like a skin graft.
This technique is not used in most breast reductions. If a free nipple graft is required, Dr Tattelbaum will discuss it with you during an initial consultation.
Will I Maintain Nipple Sensation?
In a standard breast reduction where the nipple is left attached, it is possible to maintain nipple sensation. Unfortunately, it is not guaranteed. If the free nipple technique is used, the patient will lose nipple sensation.
Will I Be Able To Breastfeed?
If a standard breast reduction is performed, you may still be able to breastfeed following the procedure, but it can not be guaranteed. And, if the free nipple grafting technique is used then breastfeeding will not be possible afterwards.
Therefore, all candidates for breast reduction should think about whether they would be comfortable with breastfeeding alternatives. Or, they could wait until they've finished having children.

Learn more in our guide: Breastfeeding With Implants: An Explanation
How Long Does Breast Reduction Surgery Take?
The length of the surgery can depend upon the size of the breast and the technique used, but on average, a breast reduction procedure takes about 2.5 hours.
Is Breast Reduction Painful?
While each patient is different, breast reduction is generally not as uncomfortable as others. It is a skin and glandular operation, which makes it less painful compared to surgeries that tighten muscles, such as a tummy tuck.
A pain pump is a device which drips local anesthesia into the breasts after surgery via connected tubes.

We can offer pain pumps to patients, but we tend to recommend against them as it means extra tubes going in and out of the surgical site. Instead, we prefer to leave a generous amount of local anesthesia in the tissues while the patient is asleep.
Some plastic surgeons will leave drain tubes that come out under the arms after a breast reduction. Generally, we do not use them. However, if they are necessary to drain excess fluid, then they will be added. We'll discuss this with you further during your consultation.
What Will My Scars Look Like?
This is perhaps the toughest question to answer. In any breast reduction surgery, the plastic surgeon will close their patients in the best way possible to minimize the cosmetic impact of scars. However, scars are unavoidable.
The breast reduction method used will impact the level of scarring, but other than that, the size and appearance of scars are hard to predict.
Genetics can play a huge factor in how we heal. Darker skin patients can be more prone to darker or thicker scars, but sometimes lighter skin patients can do the same. It is important to be comfortable with the scars and be sure the trade-off is worth it.
Will My Breasts Be Identical?
In truth, the most honest answer is no.
Breasts are rarely identical before or after surgery, but we certainly strive to make them as even as possible. You can think of breasts as sisters, but rarely identical twins.
What Can I Expect To Happen In The Months Following Surgery?
There are two stages of breast reduction surgery. The first is the surgery itself, which lasts about 2.5 hours.
The second is the bottoming out process (also referred to as 'rounding out'). Throughout the bottoming out process, the tightened skin relaxes and the breast takes on its final shape. This is something we will monitor together for about six months.
If we are happy with the shape, we are done. If not, then adjustments can be made.
Will Breast Reduction Solve My Back Pain?
There is strong evidence that reducing the weight of overly large breasts helps alleviate back, neck and shoulder pain in most patients. However, it cannot be guaranteed as pain in these areas can have other causes.
What Is The Right Age For Breast Reduction?
There is no upper age limit as long as a patient is healthy.

However, for younger patients, there is sometimes confusion. For young women and, in particular, teenagers, we want to be confident that puberty is complete and the breasts have stopped growing. The American Society of Plastic Surgery states the primary concern with performing a breast reduction on teenage patients is that their breasts may continue to grow.

To provide additional guidance, we usually perform the surgery on younger women only after they have stopped growing in height.
Can Breasts Regrow After Reduction?
Yes, breasts can regrow after reduction surgery. Breasts can and do change throughout life. The biggest game-changers are weight gain, pregnancy, or both.
Can I Have A Second Breast Reduction?
Generally, a breast reduction can be performed a second time if required. It may depend on the method used originally though. For example, the wise pattern reduction can be repeated, but other types of reductions can be more difficult to repeat.
What Cup Size Will I Be Afterwards?
This is a challenging question to answer because breast reduction is performed by the look and feel. It is as much art as science, and it's made harder because patients and bra manufacturers treat cup sizes differently.

Furthermore, you won't know your true breast size for about six months after surgery. It takes about that long for the tightened skin to relax and for the patient to see the full shape and size of the breasts.

To counter this, we keep the patient's desired size and goals in mind throughout the surgery. We reduce one breast and temporarily close it. We then sit the sleeping patient up to get a good sense of the shape and volume. If we're happy that the patient's goals have been achieved, we move on to the next breast. If not, we will reduce more.
Like all surgery, it is impossible to eliminate risks. Bleeding, infection, asymmetry, nipple sensation loss, or skin loss are known complications.

These risks are all discussed in great detail during a consultation. No plastic surgeon can eliminate all risks, but we do our best to minimize them.
Will Insurance Cover My Breast Reduction?
With shrinking health care dollars, it has become increasingly difficult to get insurance coverage for breast reduction surgery. They often make patients jump through hoops and still do not give coverage guarantees.
We offer this procedure as an elective cosmetic surgery for patients who do not have coverage benefits. If you have out-of-network benefits, our staff can help to see if you can obtain coverage.
Breast Reduction Preparation
There are several things you can do to prepare for breast reduction in Maryland.
Firstly, prepare for the consultation. Here's a tip, make notes about your motivation for a breast reduction plus your desired outcomes. If we better understand your aims, we can determine the best way to achieve them.
Then, in the lead-up to your surgery, you should focus on your fitness and health to improve your chances of a faster recovery:
Stop smoking weeks before surgery and avoiding alcohol in the days before
Stop certain medications, such as painkillers (Dr. Tattelbaum will discuss this with you)
Eat a balanced, healthy diet and exercise regularly
Finally, you should organize for someone to take you home from the surgery and, ideally, stay with you for a few days. In addition, you may want to have several meals already prepared to reduce any heavy lifting or excessive movement in the days following the procedure.
Breast Reduction Recovery
After your breast reduction, it's important to note that you will experience pain, swelling, and restricted movement. This is a routine, expected part of the recovery process, and the effects will ease over the following weeks.
In addition, to help with the recovery:
You may be prescribed painkillers
You may be given a compression bra to wear
You will be given instructions on caring for your breasts
You will likely need to take a couple of weeks off work
You should avoid physical activity for a longer period – you can discuss this with Dr. Tattelbaum
We'll organize follow-up appointments to check on your recovery and the breast reduction
You should rest as much as possible
Want to see before and after pictures from our previous breast reduction patients?
Patients can attend our offices in Rockville, MD, or McLean, VA. Most of our patients come from Maryland, northern Virginia and Washington DC.
Schedule A Consultation With Dr. Tattelbaum
To schedule an appointment for a breast reduction, please get in touch today.
The consultation lasts for roughly one hour. In the consultation, Dr. Tattelbaum will evaluate your health and starting situation, answer any questions you may have, and discuss your options for breast reduction surgery.