Dr. Adam Tattelbaum offers breast implant revision and correction procedures for patients in Maryland, Northern Virginia and Washington DC, from his offices in Rockville, MD, and Mclean, VA.
Book a free consultation with Dr. Tattelbaum to learn more.
Dr. Adam Tattelbaum is widely known for his exceptional work in breast augmentation and revisions. 
Patients choose Dr. Tattelbaum because of his outstanding reputation and because of the impressive results he consistently achieves. From our clinic in Maryland, we oversee all types of breast revision surgery, from implant revision, exchange or removal to breast lift surgery.
Whether you're looking to replace silicone implants or saline implants, correct capsular contracture or weigh up your options regarding a breast revision procedure, get in touch with our friendly team to schedule an appointment.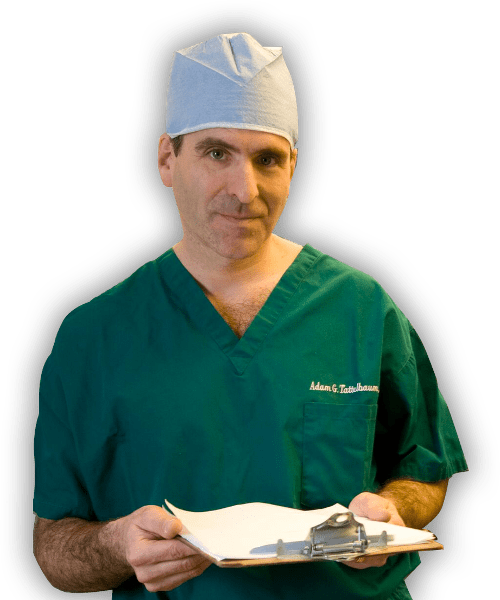 Double board-certified Maryland plastic surgeon
Member of the American Society of Plastic Surgeons
Member of the American Society for Aesthetic Plastic Surgery
Listed in "America's Top Surgeons" by the Consumer Research Council of America
Perhaps you're not happy with the results of your previous breast surgery or it's simply time to replace your existing implants. There are many reasons why a patient may require breast implant revision surgery. We can help patients with all of the following:
Changing size of breast implants – We can help you reduce or increase your breast implants and find the perfect size for you.
Changing type of breast implants – Patients commonly switch from saline breast implants to silicone implants, and vice versa.
Changing shape of breast implants – We often support patients that wish to exchange round implants with teardrop implants and vice versa.
Replacing old breast implants – We evaluate breast implants that have been in place for a number of years and advise on your options for a breast implant exchange.
Correcting faults and health issues – If your breast implants are causing you pain, we can get to the root of the problem and advise on your best options. It may be that your breast implants have ruptured or moved position.
Breast Correction of Contracture or Malposition
In some women, after breast augmentation surgery the scar tissue around the breast implant may tighten and cause the implant to shift position. If this occurs, the breast augmentation surgeon will need to either remove the implant and re-insert another or "score" the scar tissue, allowing the implant to move back into place.
Recovery Following Breast Revision Surgery
Dr. Tattelbaum will advise you on the best way to manage the downtime following your breast implant revision surgery, so you can be sure that you will have a swift recovery with no complications. The guidelines will depend on the nature of your breast revision surgery and you will be given a set of a specific aftercare instructions to follow.
Frequently Asked Questions
How soon can I get breast implant revision surgery?
We recommend that you wait at least 4-6 months following your original procedure before going ahead with any subsequent breast revision or corrective procedure.
Can breast implant revision provide a lift?
This will depend on the nature of your procedure, though we will be able to give you realistic expectations during your free consultation.
Will it cause additional scarring?
Every surgical procedure that requires an incision will result in a scar. However, we are experts when it comes to minimising and disguising the location of scars, and initial scarring will improve over time. Plus, with breast revision, we may be able to use your previous incisions as entry points, minimising any additional scarring.

We are more than happy to discuss this further in person.
Will I be able to drive afterwards?
We recommend avoiding driving for at least one week following most types of breast implant revision surgery.
How much does breast revision surgery cost?
As part of your consultation, we will provide you with a full cost estimate based on your specific needs for breast implant revision or correction.
Is breast revision covered by insurance?
This isn't an easy question to answer – sometimes breast implant revisions are covered by insurance, and sometimes they're not.

It largely depends on the coverage your insurance offers, and the reason for the procedure. Medically-necessary breast implant revisions are more likely to be covered, but there is no industry-wide definition of what is and what is not "medically necessary".

Revisions for purely cosmetic reasons (i.e. wanting bigger or smaller implants) are less likely to be covered.
We can talk through your options for insurance during your free consultation.
"Dr. Tattelbaum and his staff were fantastic from start to finish. He made me feel completely comfortable throughout the process, spent the time to answer all my questions, guided me well and made the decision so easy for me. I am 5 months out and beyond thrilled with my results. I could not have had a better experience. My only regret is not doing it sooner."
Schedule your breast implant revision consultation
To schedule an appointment for breast revision surgery in Maryland, please get in touch today.

The consultation lasts for roughly one hour. In the consultation, Dr. Tattelbaum will evaluate your health and starting situation, discuss your medical history, and answer any questions. Plus, we'll cover the risks, benefits, and alternative options.