We can perform a breast lift procedure tailored to your needs and goals, helping you lift the position of your breasts and combat sagging.
Our practice is led by Dr. Adam Tattelbaum, an experienced, board-certified plastic surgeon. We have an office in Rockville, MD, meaning we're well placed to serve patients looking for a breast lift in Baltimore, Maryland, Washington DC, or northern Virginia.
"Breast lifts are one of the most popular surgeries I perform. I am not alone. In the USA, breast lifts have become one of the most commonly performed cosmetic surgeries as women seek more natural-looking results.
As a board-certified plastic surgeon, I spend a great deal of time ensuring my patients have realistic expectations. For example, breast lifts and breast implants give completely different results. An implanted breast will have a dramatic fullness in the upper portion. A lifted breast will take on a teardrop shape. The teardrop is actually more natural.
Yet, in this country, perhaps partly because of people like me, we think the implanted breast is more natural, but it is not. With the proper patient teaching and education, restoring the natural breast to its new location can be equally gratifying. 
On this page, I'll explain everything you need to know about breast lifts, so you feel informed, safe and comfortable with the procedure."
Written By Dr Adam Tattelbaum M.D.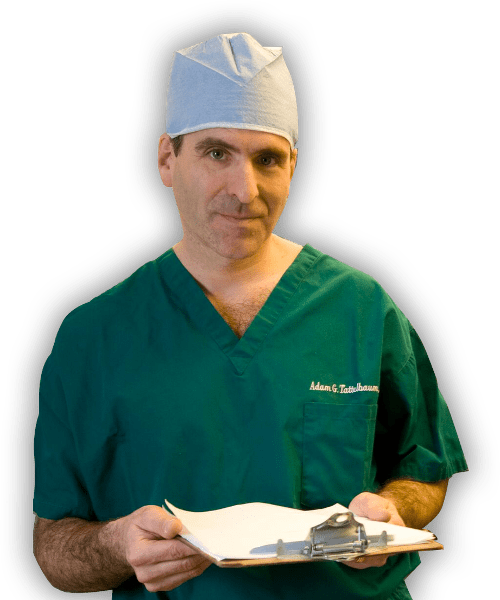 Why choose Dr Tattelbaum?
Double board-certified plastic surgeon
Member of the American Society of Plastic Surgeons
Member of the American Society for Aesthetic Plastic Surgery
Listed in "America's Top Surgeons" by the Consumer Research Council of America
A breast lift (also referred to as a mastopexy) is a popular cosmetic procedure to lift the position of female breasts. The procedure helps to tighten and reshape the appearance of the breasts, rather than change their size. Typically, breast lift surgery is performed by making an incision around the areola, reshaping the underlying tissue, and removing excess skin.
Usually, the patients we speak to about a breast lift in Maryland are concerned by the significant sagging of one or both breasts. This occurs through pregnancies, weight loss, genetics, and as part of the aging process. However, a breast lift procedure offers multiple benefits:
Restore more youthful-looking breasts
Reposition the breasts and areola
Correct misshapen or asymmetrical breasts
Treat tuberous breast deformity
If you're happy with your breast shape and volume, then a lift probably isn't necessarily. If, on the other hand, you'd like a tighter, more youthful breast, you may want to consider this procedure.
For example, if you like the volume of your breasts when you are wearing a bra but not when the bra comes off, then you may need a breast lift to resolve the issue.
Breast lifts keep the breast almost the same size, but by removing excess skin the breast is tightened. Imagine having a bra with too much fabric. The fabric is removed to tighten the bra, but in this case, the bra is the skin.
Are there different types of breast lifts?
There are four common types of breast lift: the anchor lift, the lollipop lift, the donut lift, and the crescent lift. The right type for each patient depends on their current situation and long-term objectives. This will be discussed in more detail during your consultation.
The anchor lift is also known as a full breast lift or a keyhole lift. You may also see it referred to as a "Wise Pattern" after its inventor, Dr. Wise.
An incision is made around the areola, then in a vertical line from the bottom of the areola to the underside of the breast, and then along the natural breast crease (creating an anchor or keyhole shape).
Dr Tattelbaum's Perspective
"I will sometimes refer to the anchor lift as the "big, bad breast lift" to my patients. This is because it can leave the most scars, but, in my opinion, it tightens the skin more than other lifts and often gives the best shape.
For patients with a lot of skin laxity, this is the only option. It tightens the skin vertically and horizontally and provides the greatest ability to reshape the breast. This type of skin tightening is the chosen method for most breast reductions, too."
A lollipop lift (sometimes called vertical lifts) is named after the types of incisions made. A vertical ellipse of skin is taken from around the areola down to the fold of the breast. It is then closed vertically in a straight line with the nipple and areola at the top.
Dr Tattelbaum's Perspective
"I don't care for lollipop lifts as they simply do not do enough. The lift pulls the skin side-to-side, but most droopy breasts are loose from top to bottom. In addition, it leaves the nipples too high and, when a vertical ellipse is closed into a vertical line, the line becomes longer because the nipples need to be placed at the top of the scar. Because of this, I see many of these lifts with the nipples too high.

In many cases, a full lift (above) is a better option."
The donut lift (sometimes called a periareolar lift) is mainly used for women who are experiencing a small to moderate amount of sagging. Donut lifts, in some cases, can also help reduce the size of the areola.
Once again, the name comes from the type of incision used. A full, circular incision is made around the areola. Donut lifts can be used in conjunction with breast augmentation to insert an implant.
Dr Tattelbaum's Perspective
"I use the donut lift sparingly in my practice. The donut lift creates a radial tension around the areola that can sometimes lead to stretching of the areola or the scar.
To try and minimize this tension, I use a series of sutures, one of which takes a long time to dissolve. These will often make the areolas a bit smaller with the expectation that there will be some stretching."
Crescent lifts are designed to help women with minor breast sagging. The name comes from the type of incision used during surgery, whereby a small crescent-shaped incision is made over the top of the areola. The skin is then pulled up and tightened.
Dr Tattelbaum's Perspective
"The crescent lift is the most minor type of breast lift that can achieve a younger look.
Beneficially, they can be done with breast augmentations to help correct nipple height asymmetry."
What if my breasts are droopy or small?
This is one of the most common questions we're asked during the consultation process. Although breast lifts are designed to make your breasts firmer and younger, many women wish to restore or add volume to the breast, particularly following pregnancy.
For the patient who not only wants a lift and tightening but also an increase in size, lifts can be combined with breast augmentation to insert saline or silicone implants.

When the two are combined, the type of lift we perform will depend upon the size and type of implant, and the amount of skin laxity that remains when the implant is placed during surgery.
Can I get a breast lift if my breasts are large?
Yes, patients with large breasts can get a breast lift, but there are caveats.
The larger and heavier the breasts, the more likely they are to sag regardless. It's common for us to speak to women with cup sizes of DD and higher who want to fix a droop. Unfortunately, gravity wins.
So, for excessively large-breasted patients, some degree of breast reduction will give a tighter, firmer, and longer-lasting result. This involves removing excess breast skin and tissue.
Are there potential risks?
The risk of any issues following a breast lift is low. However, potential complications can include:
Bleeding
Infection
Asymmetry
Loss of sensation in the nipple
Difficulty breastfeeding
Loss of breast tissue
We thoroughly discuss all potential risks, complications, and side effects during your consultation and ensure you're completely comfortable before scheduling any procedure.
All breast lift procedures leave some level of scarring as they involve the incision, removal, and closing up of the skin.
However, the level and visibility of your breast lift scars will depend on the type of procedure. For example, a full breast lift, using the Wise Pattern, incurs the most scarring, whereas the scarring on a crescent lift is minimal.
How long do results last?
The results of a breast lift surgery will last for roughly 10–15 years. During this time, women's bodies will change. As such, towards the end of the period, a revision might be necessary.
Can I breastfeed after a breast lift?
In most cases, a breast lift should not impact a patient's breastfeeding ability. However, the purpose of a breast lift is to improve the positioning and shape of a breast.

Therefore, it may be worth waiting until you've finished having children, given pregnancy is one of the main causes of sagging breasts.
How much does a breast lift cost in Maryland?
Many breast lift surgeons will hide their fees. However, we believe in transparency. After all, the cost of any surgical procedure is one of the most critical considerations for patients.
We try to provide all-inclusive pricing so that patients are not surprised by additional facility or anesthesia fees. The fee you see printed below includes the surgical fee, the anesthesia fee, the facility fee, and all follow-ups.
Our breast lift prices are as follows:
| Procedure | Cost |
| --- | --- |
| Initial consultation | No fee |
| Full breast lift | $8,900 |
| Periareolar breast lift | $2,500 |
| Adding a full breast lift onto an augmentation procedure | $4,000 |
| Adding a periareolar breast lift onto an augmentation procedure | $2,000 |
| Adding a crescent breast lift onto an augmentation procedure | $1,000 |
Our fees do not include pre-operative testing, outside clearance, prescriptions, and the unlikely event of hospitalization or additional care.
If needed, our staff can advise you on financing options.
"Dr. Tattelbaum could not have been a better or more attentive surgeon. Every step of the way, he was kind, supportive, practical and completely honest… I wouldn't hesitate to recommend Dr. Tattelbaum to anyone, and would absolutely go back to him if I ever desired another procedure."

Anna K.
To prepare for a breast lift in Maryland, we recommend that you:
Note down your objectives, concerns, and questions for Dr. Tattelbaum ahead of the consultation
Stop smoking, reduce alcohol intake, and maintain a healthy diet in the weeks leading up to surgery
Exercise regularly and get plenty of rest, this proactive approach will aid recovery afterward (although try to avoid pectoral exercises the week before)
Organise for someone to take you home and stay with you for a few days after surgery
Prepare several meals in advance, so you don't have to exert yourself after surgery
The recovery process from breast lift surgery is straightforward.

You'll be able to go home on the same day your surgery is performed. You will have to wear an elastic bandage and a surgical bra we provide after surgery.

Then, after the first post-operation check-up, most patients will begin wearing a sports bra that gently compresses the breasts. After 3- 6 weeks, patients are allowed to wear the bra of their choice.

To minimize the risk of bleeding or healing issues, we request that patients avoid strenuous activity for 21 days after surgery and then gradually return to their normal exercise routine.

Finally, you'll want to sleep on your back for the first several weeks after surgery to keep pressure off your breasts. We provide prescriptions for antibiotics and painkillers, although most full breast lift patients are off narcotics after 48 hours.
Want to see before and after pictures from our previous breast lift patients?
Patients seeking a breast lift can attend our offices in Rockville, MD, or McLean, VA. Most of our patients come from Maryland, northern Virginia and Washington DC.
Schedule A Consultation With Dr. Tattelbaum
To schedule an appointment for a breast lift in Maryland, please get in touch today.
The consultation lasts for roughly one hour. In the consultation, Dr. Tattelbaum will evaluate your health and starting situation, answer any questions you may have, and discuss your breast lift options.