Lip Augmentation Maryland
Dr. Adam Tattelbaum offers lip augmentation procedures for patients in Maryland, Northern Virginia and Washington DC, from his offices in Rockville, MD, and Mclean, VA.
Book a free consultation with Dr. Tattelbaum to learn more.
"Whenever I see a new patient who's interested in lip augmentation, I recommend they start small. If you're unhappy with the current look of your lips, there are great options available to you. 
However, moving too quickly with a large, permanent change may not achieve your desired results. In fact, it may result in what I call "duck lips" or "worm lips".
For instance, fillers and fat injections are a great place to start when altering the appearance of your lips. Here, we're using hyaluronic acid fillers to plump the lips with simple, in-office injections. Sometimes, fat from other areas of the body can also be used in these injections.
If you're considering lip augmentation and are ready to do something about it, I'm here to guide you through the process. Let's schedule a consultation to discuss your goals and create a plan tailored to your desires."
Written by Dr. Adam Tattelbaum, M.D.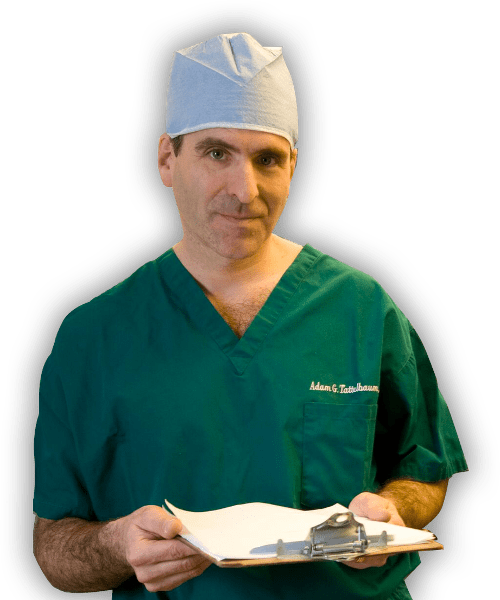 Double board-certified Maryland plastic surgeon
Member of the American Society of Plastic Surgeons
Member of the American Society for Aesthetic Plastic Surgery
Listed in "America's Top Surgeons" by the Consumer Research Council of America
What is lip augmentation?
Lip augmentation is an in-office cosmetic procedure designed to enhance the appearance of the lips. Like many things I do as a plastic surgeon I offer different options for lip augmentation to suit your specific needs and goals, including fillers, fat injections, lip implants, and lip lifts.

Each option has its own pros and cons. Personally, I prefer the use of hyaluronic fillers. While they require maintenance, they allow the most flexibility in sculpting the lip.
When it comes to lip augmentation, there are several options available to help you achieve your desired lip appearance. These include:
Fillers and Fat Injections
Fillers are by far the most popular choice. Juvederm Ultra and Juvederm Ultra Plus are what we use in my practice the most. These products now contain a local anesthetic so injection is more comfortable. We use a topical anesthetic as well.

I always caution my patients that after injections they leave the office with both filler and swelling in the lips. The lips will get smaller when the swelling goes down. Fillers tend to be a little bumpy after injection. As the filler sits in the lip it absorbs water and tends to swell and even out. Occasionally a gentle massage will help. After two weeks, the balance of lip shrinking and filler swelling is seen.

Fat from other areas can be injected into the lip. Patients sometimes do this when having liposuction on other areas. Unfortunately the fat will only remain if it takes on blood supply from the surrounding tissues. Because of the motion of the lips the longevity of fat grafts here are variable.
A variety of materials have been placed to augment the volume of the lip ranging from cadaveric tissue, to the patient's own tissues. The trend is leaning more towards a soft silicone implant. These can be placed under a local anesthesia. I still tend to favor injectable fillers. Lip implants, while permanent, are prone to asymmetries, irregularities and occasional infections.
The Lip Lift, sometimes called the "bullhorn lip lift" is when a wedge of skin is taken out under the nose, pulling the red lip upwards. While the scar is well hidden it is still a scar in a visible area nonetheless. In this operation, again done under a local anesthesia, less is more.
Lip augmentation recovery
After undergoing lip augmentation, it's common to experience some swelling, bruising, and mild discomfort, which typically subside within a week.

Applying ice packs and following prescribed medications can help manage these symptoms. It's important to avoid strenuous activities and refrain from touching or applying pressure to the treated area, as this can promote smoother healing.

While results may be visible immediately, the final outcome usually becomes apparent once any initial swelling goes down. It's recommended to follow your surgeon's post-procedure instructions to ensure a smooth recovery and optimize the final result.
Frequently asked questions
Am I a good candidate for lip augmentation?
If you desire fuller lips, improved lip contour, or a more balanced facial aesthetic, you might be a suitable candidate.
Generally, you are a good candidate if:
You're in good health
You don't smoke
You don't have active infection such as oral herpes
You don't have a chronic condition like diabetes or lupus.
You have realistic expectations about the outcome
How long does lip augmentation last?
How long the result of lip augmentation lasts depends on the option you choose.
Fillers: Last around six months to a year.
Fat Injections: Typically last up to five years.
Lip Implants: Provide permanent results, but can be removed at any time.
Lip Lifts: Offer long-lasting enhancement.
What are the benefits of lip augmentation?
Lip augmentation offers a range of benefits, such as:
Enhanced volume
Improved lip shape
Youthful aesthetic
Minimal downtime
If you're interested in the procedure, a qualified surgeon can help you determine the best approach to achieve your desired lip augmentation goals.
How do I prepare for lip augmentation?
Preparing for lip augmentation is straightforward yet crucial for a successful experience. Begin with a consultation, discussing your expectations and medical history with your surgeon.

Make sure to mention any allergies, medications, or health issues. If you're on blood thinners, avoid the medications and supplements before the procedure to reduce the risk of bruising.

Keep yourself well-hydrated in the days leading up to the procedure for a smoother recovery. If you're going to have anesthesia or sedation, plan for someone to give you a ride home.

Stick to any pre-procedure guidelines from your provider and keep your expectations realistic.
What can I expect during the procedure?
Here's what you can generally expect for each type of lip augmentation procedure:

Lip Fillers: with this procedure, I use a fine needle to inject the filler into your lips. This procedure usually takes about 10 to 30 minutes to complete.

Fat Injections: For a fat transfer procedure, I'll start by performing liposuction to extract fat, often from your belly area. Once it's done, I'll carefully inject it into your lips. This procedure generally takes around 60 to 90 minutes.

Lip Implant: During a lip implant surgery, I'll begin by numbing your lips. Then, I'll make tiny incisions at each corner of your mouth. Through these incisions, I'll create a tunnel using a clamp, guiding the implant through. Once in place, I'll close the incisions with stitches. This procedure typically takes about 30 minutes.

Lip Lift: If you're considering a lip lift, here's what you can expect. After numbing the area, I'll make an incision under your nose. I'll then remove a small strip of skin, allowing me to lift your upper lip to achieve the desired effect. Finally, I'll close the incision with stitches. Alternatively, in another type of lip lift, I'll create two small incisions on each side of your mouth and remove some skin from those areas. This procedure generally takes about an hour.
What are the risks and complications of lip augmentation?
Although lip augmentation is generally considered safe, but like any surgery, it carries some risks:
Swelling and bruising
Infection
Uneven results
Allergic reactions
Lip stiffening
How much does lip augmentation cost?
The cost of lip augmentation is based upon an individual treatment plan that we will develop together during your initial consultation. After the appointment, we provide you with a total cost and explanation of your payment options.
We have two offices – one in Rockville, MD, and one in McLean, VA. Most of our patients come from Maryland, northern Virginia and Washington DC.
Schedule a free consultation
If you're interested in lip augmentation, the next step is to schedule a consultation with Dr. Tattelbaum.
The consultation lasts for roughly one hour. In the consultation, Dr. Tattelbaum will evaluate your health and starting situation, discuss your medical history, and answer any questions. Plus, we'll cover the risks, benefits, and alternative options.