Can You Breast Feed With Implants?
Breast augmentation continues to be one of the most popular plastic surgeries in my own practice, and furthermore across the entirety of the United States, too. In fact, data from The Aesthetic Society shows there were just short of 365,000 breast augmentation procedures in 2021. Undoubtedly, the number will have grown in the years since.
A portion of these procedures will be on patients who have already had children and are unlikely to have more in the future. Anecdotally speaking, about half of the women I operate on are in this situation.
But there are a large number of patients who consider breast augmentation before childbearing. And one of their main concerns is whether they'll be able to breastfeed in the future. It's one of the most common questions I receive during a breast augmentation consultation.
Can You Breastfeed With Breast Implants?
The quick answer is that the overwhelming majority of breast augmentation patients will be able to breastfeed with breast implants, but it is not guaranteed.
Some women will encounter difficulty or an inability to breastfeed, with or without an implant. So pinning down an exact level of risk prior to surgery is hard. There are two factors that affect the ability to breastfeed with respect to implants, which I'll discuss more below. However, first and foremost, it's vital to discuss any breastfeeding concerns with my patients during the initial consultation.
I always recommend that my patients ask themselves, "If I couldn't breastfeed following augmentation surgery, am I comfortable with the alternatives?".
While most patients will be able to breastfeed successfully, this is the safest way to think about it, just in case.
Factors That Can Affect Breastfeeding With Breast Implants
There are two main factors that can affect breastfeeding after a woman has implant surgery.
The first is the breast ducts, which make and express the milk. To insert the implants, a surgeon will need to make incisions. There are multiple areas where incisions can be made, which offer a variety of pros and cons.
In respect to breastfeeding, an incision around the areola may cut or damage the breast ducts, which will then impact their ability to create and transfer milk. We can avoid this risk by instead making an incision under the fold of the breast, which largely avoids these ducts and may be more appealing to patients who have not yet had children.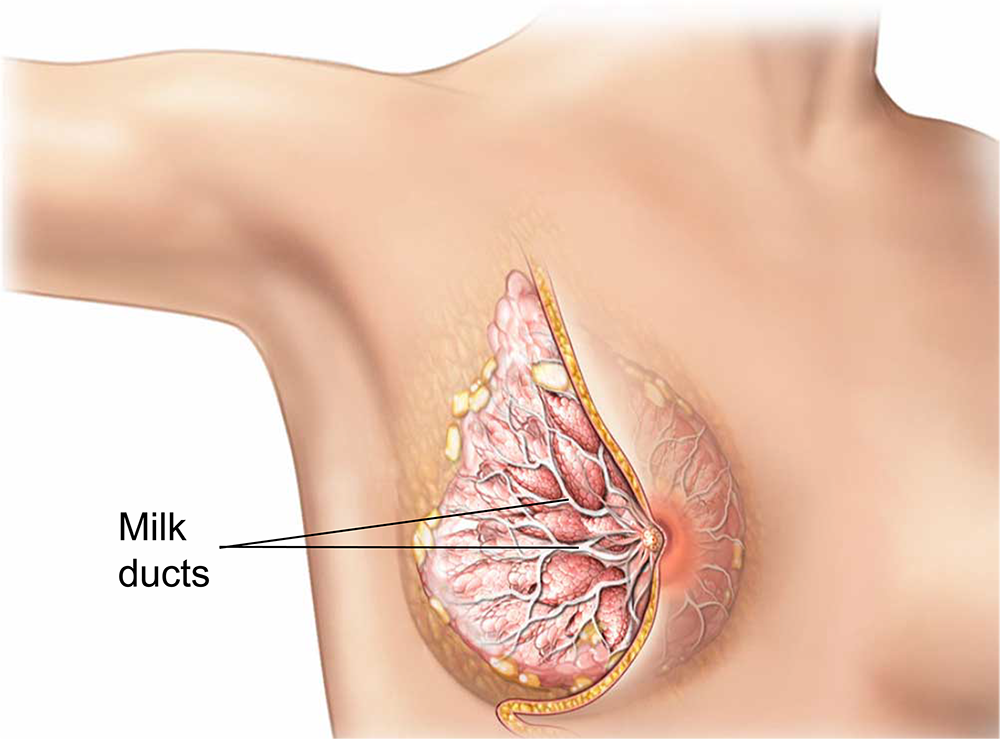 The second factor is milk let down. When the nipple is stimulated signals go to the brain and milk is released. If nipple sensation is lost, let down can be inhibited. During breast implant surgery, an incision around the areola might affect the nipple sensation more than an incision underneath the breast. Meanwhile, a larger implant may stretch or tear the nerve leading to sensory loss.
Using another incision site or a more sensibly-sized implant lowers these risks.
Concerns
With or without implants, sometimes the ducts that produce milk can become infected with breastfeeding. It is rare, but possible, that such an infection could also infect the implants.
This is one of a variety of reasons why I prefer to insert breast implants under the muscle. Doing so adds a layer of protection separating the implant from the ducts in case an infection happens.
Does Breastfeeding Affect The Look Of Implants?
Breastfeeding can affect the look of implants, but not (usually) because of any impact on the implant itself.
Once a set of breast implants have dropped and settled into position after augmentation surgery, they usually stay there. It is the natural breast tissue on top of the implant that changes, especially after pregnancy and breastfeeding.
The tissue can swell and shrink leading to volume loss and droop. With just a little droop and volume loss, most will not be concerned with the appearance of their breasts. In fact, a little droop can look more natural.
However, those with a lot of skin laxity, breast droop, or volume loss might consider a breast lift to restore the appearance. Alternatively, they could opt for a larger or smaller implant. Either way, it is often best to wait until a woman has finished childbearing to consider these options.
Summary
While I have never had a patient complain of breastfeeding issues after childbearing, I suspect it does happen. The key is to make sure that patients understand the possibility and embrace it. I think it is important that plastic surgeons, like myself, provide a window into the future about what patients can expect with breastfeeding following a breast implant procedure, and the changes to come in the future.
March 16, 2023 9:35 am
Categories: Blog, Breast Augmentation