Breast Augmentation Maryland
If you want to change the size, shape or volume of your breasts, then we can help. 

Dr. Adam Tattelbaum is an experienced, board-certified plastic surgeon specialising in breast augmentation surgery for patients across Maryland, North Virginia, and Washington DC. 

We have offices in Rockville, MD, and Mclean, VA. Get in touch today to learn more and book a free consultation.
"Patients often come in and the first thing they want to do is show me their wish pictures. I ask them not to.
I don't want to be constrained or biased by an image until we have gone together through the very personal process of implant sizing.
Throw out the concept of an A, B or C cup, because this means very different things to different people. In our consultation, I think about a person's size and goals, not just breast size. Patient height, hips and shoulders all play into achieving the right breast implant. 
Once we see what we like, the wish pictures are useful as a 'reality check' tool."
Written By Dr Adam Tattelbaum M.D.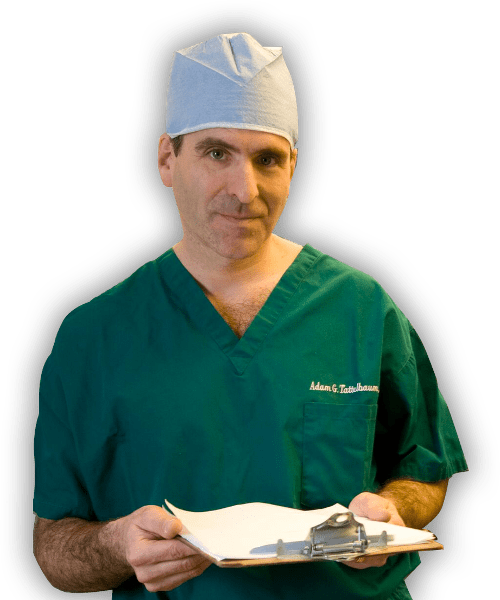 Why choose Dr Tattelbaum?
Double board-certified plastic surgeon
Member of the American Society of Plastic Surgeons
Member of the American Society for Aesthetic Plastic Surgery
Listed in "America's Top Surgeons" by the Consumer Research Council of America
How Do I Choose An Implant Size?
The key to deciding on breast implant size is to consider the size of the patient as a whole. The breasts must balance with the rest of the body. The goal is to find an implant that provides enough curve under the arm to achieve a balanced, hourglass figure.
In a consultation, you'll try on several implant sizers. We'll first identify the right implant width and then move on to the projection – looking at the difference between low, moderate, and high profile implants.
Want to learn more about choosing the right size?
Check out the examples below of implants that are too big, too small, and just right. Please be warned though, the images contain nudity for educational purposes.
Dr Tattelbaum's Perspective
"When I size a patient, I don't think cup size or CC's (the measurement for implants). I think about the patient's size. I try to find implants that balance with the height, shoulders and hips.
An implant that is too small will look like a torpedo, but an implant that is too big will make a woman look heavy."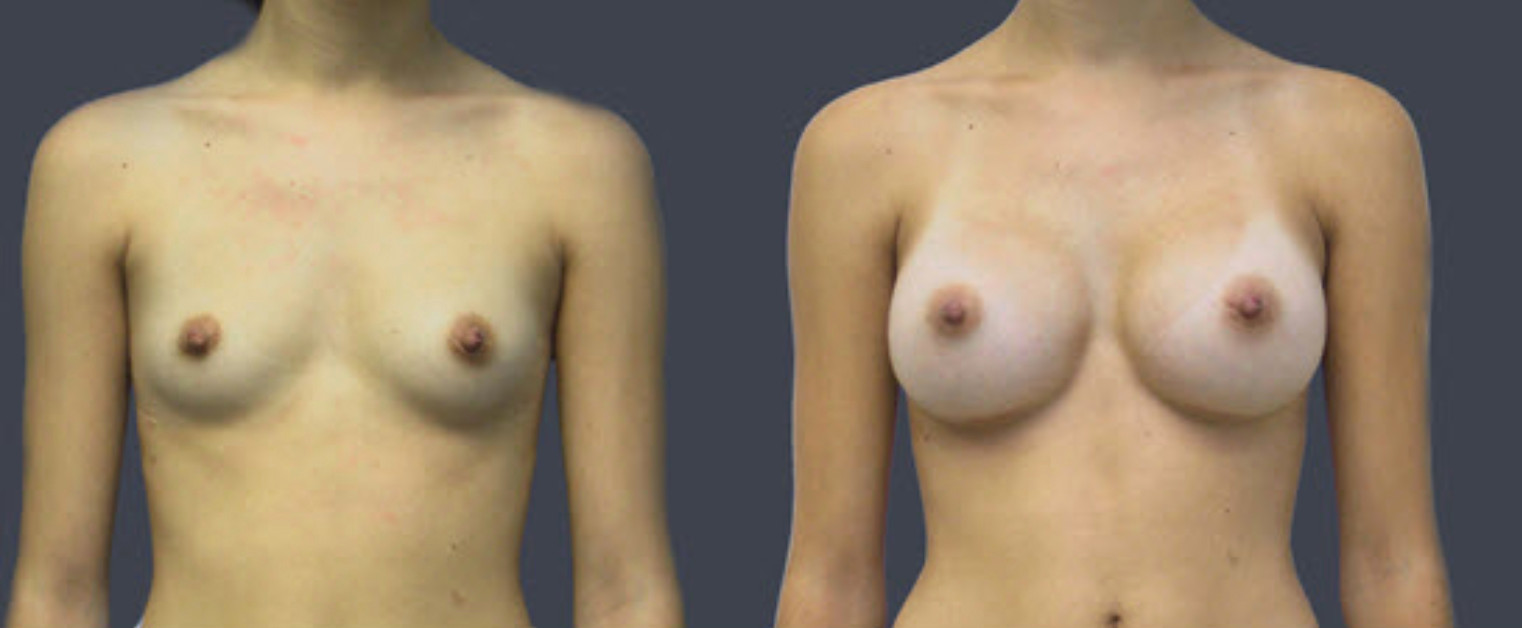 Fill: Saline or Silicone Implants?
Breast implants can be filled with a saline solution (salt water) or silicone gel.
Silicone implants are highly popular because they look and feel more natural, with a softer touch and minor rippling under the breast. However, they're more expensive, can require a slightly larger incision, and the volume cannot be adjusted because they are sealed. Plus, MRI check-ups are recommended long-term to screen for rupture.

Saline implants are more full at the top (like a balloon) and elevate the skin of the breast more.

The right choice will depend on the patient and their needs.
Dr Tattelbaum's Perspective
"I prefer using silicone implants because they tend to look more natural, but there are some cases where silicone makes less of a difference. 
If a woman has little or no breast tissue, I prefer silicone because it is much harder to hide saline implants in such cases. A woman with a B or C cup breast will hide a saline implant better, but would still feel more natural with silicone.
If a patient has a good breast tissue and some mild droop of the breast, I will sometimes recommend a saline implant. Saline implants are more full at the top (like a balloon) and elevate the skin of the breast more.
If I have a patient with significant asymmetry, a saline implant is more flexible because the volume can be adjusted."
Surface: Smooth or Textured?
Breast implants can come with a smooth or textured surface. 
The main difference is that smooth implants don't stick inside the pocket where they are placed, whereas textured implants stick to the surrounding tissue with no motion.
Textured surface implants may have a lower rate of capsular contracture (abnormal scar tissue tightening) when implants are placed above the muscle, but it doesn't make a significant difference below the muscle.
Textured implants have also recently been implicated as a possible causative factor in a rare type of lymphoma. While it is extraordinarily rare, we're less enthusiastic about using textured implants. This association has not been demonstrated in smooth implants.
Dr Tattelbaum's Perspective
"For most patients, I prefer smooth implants. Smooth implants don't stick inside the pocket where they are placed. By moving within the pocket, they tend to look more natural. Textured implants stick to the surrounding tissue with no motion and are slightly more feelable."
Shape: Teardrop, Gummy Bear or Round?
The shape of an implant can make a difference to the final result of your breast augmentation. There are two main options:
What's a teardrop implant?
A teardrop implant is smaller at the top and larger at the bottom. In some cases, they can look more natural.

All teardrops are textured, so the implant sticks inside and maintains the correct orientation. However, on rare occasions, a teardrop can turn sideways and look abnormal.
What's a gummy bear implant?
Teardrop shapes include the famous gummy bear implant, which has a textured surface and a thick gel inside (to maintain the shape), yet with a natural feel that retains its shape.

These implants are textured and firmer, sometimes requiring larger incisions. We use them only in certain situations.
A round implant has an even spread of silicone or saline fill throughout the implants.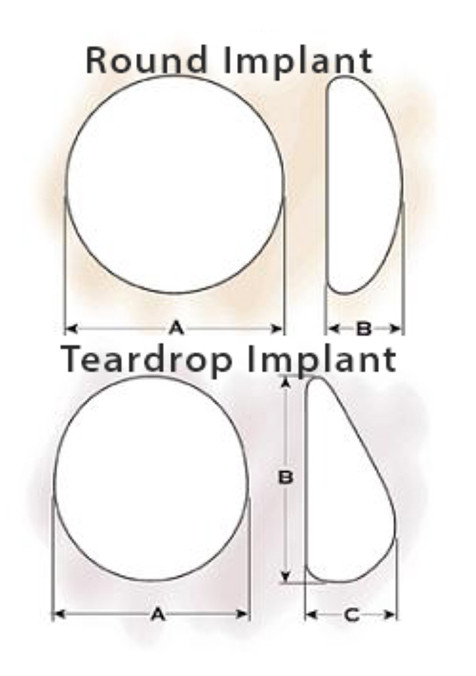 Dr Tattelbaum's Perspective
"I prefer smooth, round silicone over teardrops because a rounded silicone implant takes on a teardrop shape when inserted under the muscle. Yet, if a round implant rotates, it will make no difference."
In addition to the choice of implant, there are decisions to be made about the surgical methods, namely:
Under or over the muscle
Incision points
Breast implants can be placed in two locations: above the pectoral muscles but underneath the breast tissue (subglandular), or underneath the pectoral muscles (submuscular).
Dr. Tattelbaum prefers submuscular placement as:
It looks more natural with the muscle draping over the top of the implant to give a softer look
Submuscular implants have a lower rate of "capsular contracture" (abnormal tightening of scar tissue around the implant)
The infection rate is lower, and future mammograms are interpreted more easily
If a patient eventually needs a breast lift, having the implant under the muscle preserves more blood supply to the breast making future lifts less risky.
Breast implants can be placed through various incisions points:
Below the areola (periareolar)
In the fold of the breast (inframammary)
Through the armpit (transaxillary)
Through the belly button (transumbilical or tuba)
Through a tummy tuck (transabdominoplasty)
The mainstay of our practice is the inframammary approach. It is often the best concealed.
Recent evidence shows that an areolar approach may increase the risk of late tightening or contracture of the implants. Transaxillary and transumbilical are less precise, so we don't favour them. A transabdominoplasty is an option for patients having a tummy tuck and considering saline implants, but it is also less precise than an inframammary approach.
Do You Use An Implant Funnel?
An implant funnel is a relatively new tool that helps with the insertion of silicone gel implants. It's like a pastry funnel for breast implants, which allows surgeons to place silicone gel implants more easily and through smaller incisions.

We use an implant funnel where possible, as we believe it puts less stress on the implant during insertion and helps to diminish long-term ruptures and capsular contracture.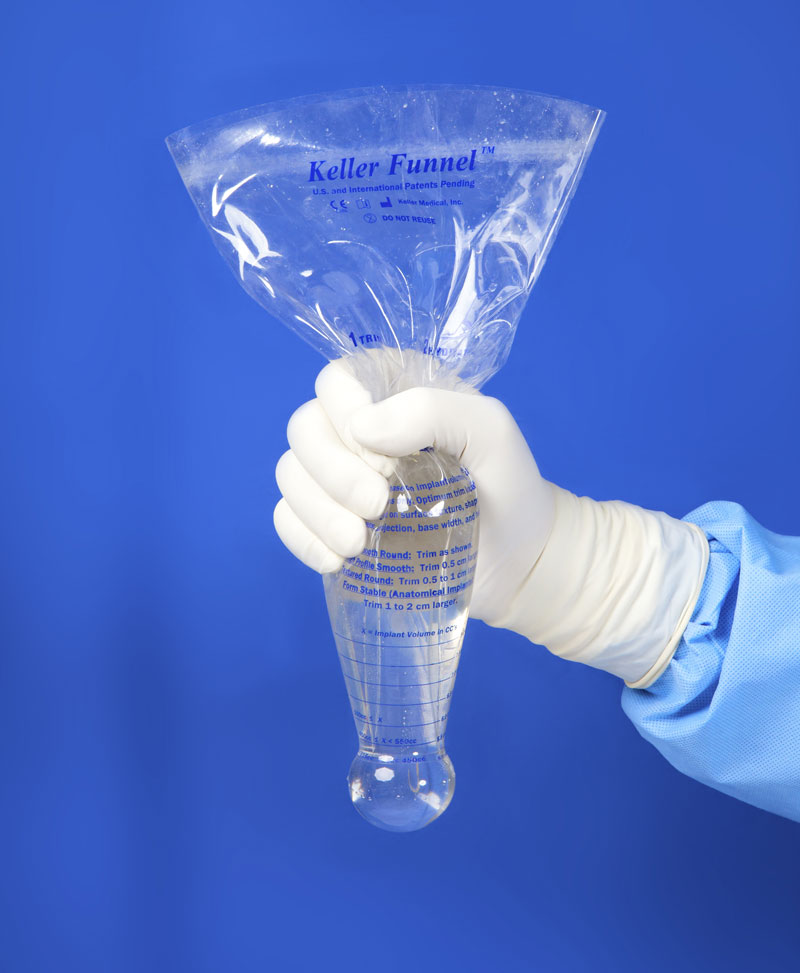 Are Silicone Gel Breast Implants Safe?
After extensive clinical testing, the FDA, breast implant manufacturers, and other researchers have found no link between medical problems and silicone gel breast implants. The tests found:
Silicone gel breast implants do not cause breast cancer or reoccurrence of breast cancer.
There is no evidence that silicone gel breast implants contribute to an increase in systemic diseases.
It is safe to breastfeed with silicone gel breast implants.
For more information, read our post:
Silicone Breast Implant Safety
In the United States, three companies are FDA approved to supply breast implants: Allergan, Mentor, and Sientra. They are all excellent and well-studied products.
What Are The Risks Of Breast Augmentation?
Risks of breast augmentation can include bleeding, infection, asymmetry, scarring, capsular contracture, and more.

We will discuss the risks with you in detail during the consultation so you're fully aware of everything that can happen. This may be a little scary, but the likelihood of any issues occurring is low. Plus, we'll do everything we can to minimize all risks and ensure your procedure is successful.
How Much Does Breast Augmentation in Maryland Cost?
The cost of breast augmentation can vary based on several factors. To get an accurate quote and discuss your options, please contact us to set up a consultation.
Nonetheless, we believe in transparency. As such, we're happy to share the average cost of breast augmentation by Dr. Tattelbaum. The average all-inclusive cost (no hidden fees like anesthesia or facility fees) for a standard augmentation procedure is $6,900.
When Should I Consider Breast Augmentation?
Most patients desire breast augmentation in Maryland for aesthetic reasons, as they may be unhappy or self-conscious about the size of their natural breasts. A small number of patients require augmentation to rebuild the breast following medical treatment, pregnancy, or weight loss.
Whichever camp you fall into, it's clear why this is such a popular surgery with key benefits that include:
Increased breast size and volume

Improved breast symmetry

Better fitting of clothes and bras
"Dr Tattelbaum has a wonderful bedside manner, is very thorough when explaining procedures and makes you feel at ease. He truly goes above and beyond. My breast asymmetry and augmentation went very smoothly and I am so happy with the results. Truly can't say enough good things about him, his staff and his work."

Alexandria A.
Breast Augmentation Preparation
To prepare, we recommend that you:
Think about your desired shape and size
Note down your objectives, concerns, and questions for Dr. Tattelbaum ahead of the consultation
Stop smoking, reduce alcohol intake, and maintain a healthy diet in the weeks leading up to surgery
Stop certain medications, such as blood thinners, herbal supplements and anti-inflammatory drugs
Exercise regularly and get plenty of rest, this proactive approach will aid recovery afterwards (although try to avoid pectoral exercises the week before)
Organise for someone to take you home and stay with you for a few days after surgery
Prepare several meals in advance so you don't have to exert yourself after surgery
Breast Augmentation Recovery
As with any surgery, the body will react to a breast augmentation procedure. The body's natural reaction will include swelling and stiffness, which can be painful and take a few weeks to ease. Typically, the larger the implant, the more sore the area will be and the longer it will take to recover.
To help with the recovery:
You may be prescribed painkillers
You may be given a compression bra to wear
You will be given instructions on caring for your breasts, including a massage regime to begin one week after surgery
You will likely need to take about a week off work
You should avoid activity that raises your blood pressure for 21 days after surgery – you can discuss this with Dr. Tattelbaum
We'll organize follow-up appointments to check on your recovery
Use common sense to increase your activity level and avoid straining the upper body before the third week of recovery
Breast Augmentation Results
Want to see before and after pictures from our previous patients?
Patients seeking breast augmentation can attend our offices in Rockville, MD, or McLean, VA. Most of our patients come from Maryland, northern Virginia and Washington DC.
To schedule an appointment for a breast augmentation, please get in touch today.
The consultation lasts for roughly one hour. In the consultation, Dr. Tattelbaum will:
Evaluate your health and starting situation
Answer any questions you may have
Look at implant sizes in a testing bra to help choose the right size and achieve your goals
Cover the risks, benefits, and alternatives to breast augmentation so you can make an informed decision
For the consultation, we recommend you bring:
Questions and notes: Many people forget what they wanted to discuss and ask about during the consultation, so it's always best to bring a written list.
A second pair of eyes: Whether it's a friend, significant other, or loved one, having an extra opinion can help.
Different blouses or shirts: It can help to look at yourself in both work and casual wear when testing different implant sizes.