Rhinoplasty Maryland (Nose Jobs)
Dr. Tattelbaum is an experienced, board-certified plastic surgeon offering rhinoplasty, commonly referred to as a nose job, in Maryland and nearby areas.
3203 Tower Oaks Blvd, Suite 200
Rockville, MD 20852
(301) 804-6832
"A rhinoplasty is one of the most delicate surgeries I perform. A few millimeters, one way or the other, can be the difference.
The consultation, in my opinion, is the most important part of the entire surgery. In the consultation, I evaluate the patient's airway, the nasal structure and, more importantly, their goals.
I feel it is vital to tell patients what can be achieved, but more meaningfully, what cannot.
I use computer imaging as a teaching and honing tool. The computer is remarkable. It can do anything, but I don't use it to guarantee a result. It can't. I use it to see if my vision for my patient's nose is in sync with the patient's vision. The next step is trying to give a realistic idea of whether that vision can be accomplished.
If I can give you the nose you want, I will certainly let you know, but more importantly, I will be focusing on what can realistically be done from your starting situation."
Dr Adam Tattelbaum M.D.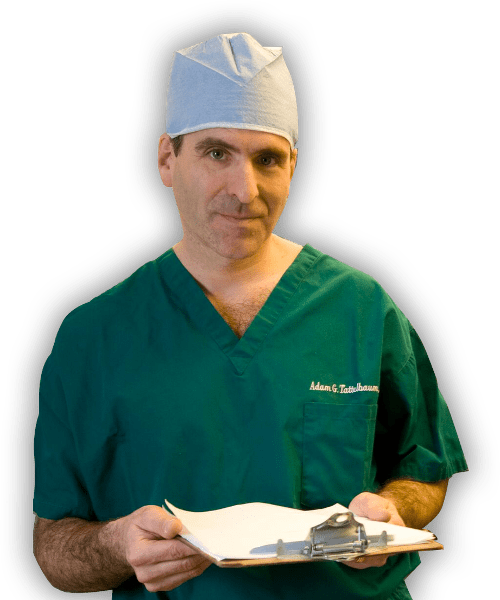 Why choose Dr Tattelbaum?
Double board-certified Maryland plastic surgeon
Member of the American Society of Plastic Surgeons
Member of the American Society for Aesthetic Plastic Surgery
Listed in "America's Top Surgeons" by the Consumer Research Council of America
Rhinoplasty, also known as a nose job or nasal reconstruction, is a type of facial plastic surgery to alter the size and shape of a patient's nose. It can be performed to change the nose's appearance for aesthetic reasons, or it may be necessary for medical reasons, i.e. to fix breathing difficulties.
At its most basic, rhinoplasty may be a suitable choice if you feel your nose is too large or small, too crooked or hooked, too wide or enlarged, too asymmetrical, your nasal passage is blocked, or if you have a deviated septum.
All in all, it's a popular procedure. There are more than 76,000 rhinoplasty surgeries performed annually in the US. And it's one of the surgeries we're most often asked about.
In summary, a rhinoplasty procedure can:
Alter the size and shape of your nose, tip and nostrils
Achieve a better balance between your facial features
Fix breathing problems, such as a deviated septum
Repair the nose after injury
For more information and to organize a private consultation, get in touch with Dr. Tattelbaum to discuss a rhinoplasty in Maryland.
The term 'rhinoplasty' is a catch-all for different types of nose surgery. The more common rhinoplasty procedures include:
Cosmetic rhinoplasty
Cosmetic nose jobs are another blanket term for many different types of procedures. These include just about any surgery that is performed to improve the appearance of your nose and balance the facial features.
Reduction rhinoplasty
Reduction rhinoplasty is a nose job performed to make your nose smaller. The bridge and tip of the nose are the two most common areas where reduction surgery is performed.
Augmentation rhinoplasty
Augmentation nose surgery is performed specifically for patients who want a more symmetrical or proportioned nose. Implants or other materials may be added to make the nose larger. This is mainly used when a patient has a flat, wide, or drooping nose.
Revision rhinoplasty
Revision rhinoplasty is, as the name implies, a follow up nose surgery. If you've had a procedure performed but aren't happy with it, then a revision procedure could be an option. Between 10-20% of patients in America will have a revision rhinoplasty. Fortunately, most revisions tend to be small adjustments.
Post-traumatic nose surgery
Reconstructive surgery is sometimes performed after a patient has been in an accident. The nose may have been broken as a result, leaving it out of shape or deformed. In some cases of trauma, extensive reconstruction is required.
Functional rhinoplasty (septoplasty)
The right and left side of the inner nose is separated by a piece of cartilage called the nasal septum. If the septum is warped or twisted, it can affect how a person breathes. Septoplasty, or septum treatment, is sometimes required to maintain or improve breathing.
In some cases, the septum is moved. In others, portions are removed. Sometimes work on the septum must be done to straighten a crooked nose. For the patient who is a "mouth breather," opening the nasal passages may improve snoring.
Non-surgical rhinoplasty
Some people are not ready to have a surgical procedure. Fortunately, there are non-surgical options. Non-surgical rhinoplasty uses fillers that can be injected under the skin to fill in areas of the nose.
For example, in traditional nose surgery, a bump on the nose is usually filed down. In non-surgical rhinoplasty, the area above the bump may be filled up, which masks or camouflages the bump.
In surgical rhinoplasty, cartilage or implants are used to elevate the bridge. In non-surgical rhinoplasty, fillers can be used to accomplish the same goal.
Fillers do not last forever. Some stay longer than others, but for a patient who is not sure about surgery, it is a nice and reversible option to change the profile of the nose.
How much does a rhinoplasty cost in Maryland?
A routine, simple rhinoplasty performed by Dr. Tattelbaum costs $9,900. This fee includes the surgical fee, the anesthesia fee, and the facility fee. Implant or septal work will have additional costs
Some surgeons will not publish their fees online, and others will not provide the full fee (for example, not including the anesthesia or facility fees). However, we know that cost is one of the primary considerations for a patient, so we think it's important to be as transparent as possible.
The fee above includes everything, so there are no hidden surprises. That said, some people will require implants, grafts, or struts. These add to the cost but are discussed during the initial consultation.
To prepare for rhinoplasty in Maryland, we recommend that you:
Note down your objectives, concerns, and questions for Dr. Tattelbaum ahead of the consultation

Stop smoking, reduce alcohol intake, and maintain a healthy diet in the weeks leading up to your procedure

Exercise regularly and get plenty of rest, this proactive approach will aid in recovery

Organize for someone to take you home afterwards
Immediately after your rhinoplasty surgery, the body will begin to react. All patients will experience swelling on and around the nose, although the severity of the swelling will depend on the nature of your operation.
Breathing through the nose may be difficult for the first week. Your nose will be blocked (with swelling, dried blood, sutures, and more), but you won't be able to clean it out. This is because you will be asked to completely refrain from touching the surgical site initially other than to gently clean it, with clear cleaning instructions provided. Moreover, you'll be asked not to blow your nose for a week.
Some areas may begin to bruise, especially in sensitive spots, such as around the eyes. Fortunately, the swelling and bruising quickly begin to subside.
For the first week, your nose will be covered by padding, which may have support splinters. As such, most people choose to take a week off and rest at home. 
The padding and splint are removed at a check-up the following week, where you'll see your new nose for the first time.
Your nose will, however, still be swollen at this point. This is not your final result. Swelling can take a year to completely subside, although most people won't know you are swollen within a week or two.
In addition, lumps and bumps will come and go. The skin heals by depositing scar tissue, and the bones heal by depositing new bone. Gently massaging the nose helps to keep this in check, but there are always some changes you will feel even when healing is complete. Early on, the airway can become swollen and nasal breathing can be harder, but this will resolve independently.
To aid recovery, we also recommend:
Avoid strenuous activity for a couple of weeks

Avoid any contact sports for 1-2 months – Dr. Tattelbaum can give you a timeline

Sleep on your back to keep the pressure off your nose

Take the medication and painkillers prescribed by Dr. Tattelbaum to combat swelling and soreness

Eat a healthy, balanced diet

Drink plenty of water

Get as much sleep as you possibly can
Before and after rhinoplasty
You can see an entire gallery of before and after pictures from our rhinoplasty patients here: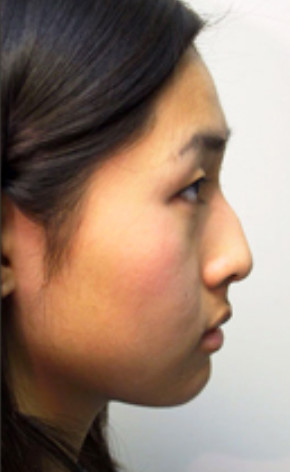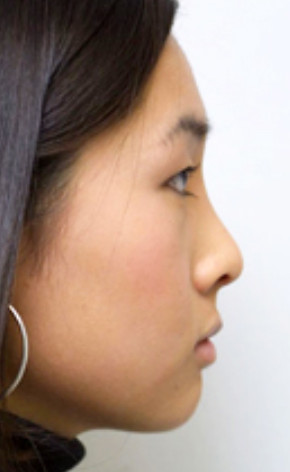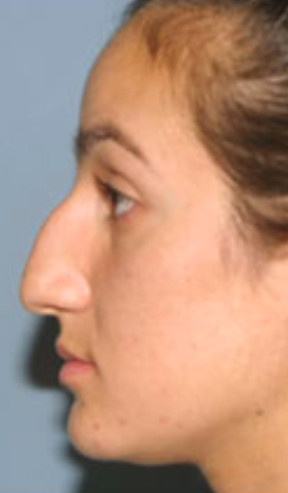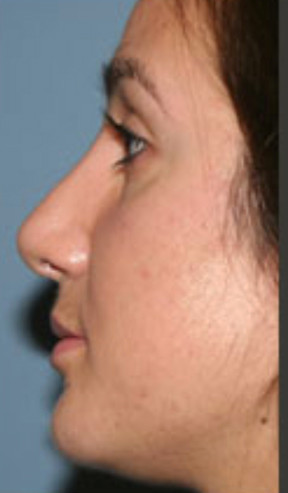 How is a rhinoplasty performed?
There are two different types of nose surgery: open (external) and closed (endonasal).
Closed rhinoplasty is performed through the inside of the nostrils. There are no incisions made to the outside. Incisions are placed inside the nostrils. This type of rhinoplasty is done by look, touch, and feel as the internal structures are hidden. This is best for simple rhinoplasties.
With an open rhinoplasty, in addition to making incisions inside the nose, there is an additional incision underneath the nose. This allows the skin of the nose to be lifted, giving a direct view of the underlying structures. Open rhinoplasty is more precise as it allows direct vision and repair of structures that cannot be seen in a closed approach. 
Dr. Tattlebaum will recommend open or closed rhinoplasty based on a patient's needs, goals, and preoperative evaluation.
Will I be given a general anesthetic?
Most rhinoplasty procedures are typically performed under general anesthesia. Although this can seem a little scary, it's straightforward.
You come in on the day of your surgery, we meet and discuss the order of the day, and then you're prepared for surgery. When ready, you're given a general anesthetic and told to count down from ten. Before you reach number six, you'll be fast asleep.
The next thing you'll experience is waking up in the recovery room, with the procedure complete.
What are the risks of rhinoplasty?
Every surgery has risks, and rhinoplasty is no different from the rest. But the risks associated with rhinoplasty are rare, and they'll be fully explained during your consultation with Dr. Tattelbaum. These may include:
Infection, which could spread to other parts of the body

Nose asymmetry

Nasal blockage

Excessive bleeding

Difficulty breathing

Septum damage

Numbness
The chances of these things happening are small, but they are not zero. If you have any doubts, please bring them up during the evaluation.
What happens on the day of my rhinoplasty?
Rhinoplasty is an outpatient surgery. Generally, this means that you will go home on the same day.
In the morning, you will meet with Dr. Tattelbaum and review the plan, the goals, and the post-operative care. You will meet many of the team that will participate in your care, such as the nurses, the anesthetist, and the technicians. We're proud to have a wonderful, caring, and talented team that has worked together for a long-time (15+ years in some cases!).
You will then be prepared for surgery, given a general anesthetic, and the surgery will begin. In most cases, a rhinoplasty procedure takes an hour or less, but we're flexible – Dr. Tattelbaum will not leave the operating room until he's happy with the result.
Later, in the recovery room, you'll wake up with a splint on the nose and a drip pad underneath. You can change that pad a day or two after surgery. 
Soon after you wake up, swelling and congestion will increase in severity as the body reacts. But once our post-operative care team is happy that you're okay, you will be free to leave (you must have someone to take you home).
How long will it take to see my final results?
Most of the swelling should subside within 1-2 weeks of surgery, to the point where family, friends, and colleagues will be unable to tell you are swollen. 
Towards the end of this period, you should have a good idea of the general results. However, over the coming months, there will be gradual, minor changes as the swelling continues to reduce and the nose settles.
This will continue for about a year, at which point you'll hopefully have the nose you desired. If for some reason, you do not see the results you hoped for, corrective or revision surgery may be an option.
It's also worth keeping in mind that, naturally, our noses continue to change throughout our lives.
"Dr. Tattelbaum and his staff were fantastic from start to finish. He made me feel completely comfortable throughout the process, spent the time to answer all my questions, guided me well and made the decision so easy for me. I am 5 months out and beyond thrilled with my results. I could not have had a better experience. My only regret is not doing it sooner."
Schedule your rhinoplasty consultation
To schedule an appointment for rhinoplasty, please get in touch today.
The consultation lasts for roughly one hour. In the consultation, Dr. Tattelbaum will evaluate your health and starting situation, discuss your medical history, and answer any questions. Plus, we'll cover the risks, benefits, and alternatives to rhinoplasty supported with teaching diagrams and photos.