Mommy Makeover Washington DC
Pregnancy and childbirth can cause significant alterations to a woman's body causing many Washington D.C. mommy makeover patients to feel insecure over multiple aspects of their figure. This is why a mommy makeover procedure targets both the stomach and the breasts to help women restore their pre-pregnancy figure and confidence.
What is a Mommy Makeover?
A mommy makeover procedure combines more than one surgery to restore a woman's body after pregnancy. This is why Dr. Tattelbaum refers to the surgery as 'postpartum restoration' as the majority of patients wish to restore the specific areas of their body that were impacted by pregnancy or breastfeeding. A mommy makeover procedure typically includes a breast surgery and a tummy tuck procedure:
Breast Surgery – typically involves a breast augmentation, breast lift or in some cases a breast reduction.
Tummy Tuck – Dr. Tattelbaum performs a range of tummy tuck procedures including full, mini and fleur-de-lis tummy tucks. During your consultation, Dr. Tattelbaum will be able to advise you on the most suitable technique depending on how lose the abdominal skin is after pregnancy. 
Who is a Suitable Candidate?
Every patient has different concerns and needs which is why Dr. Tattelbaum understands the importance of ensuring each patient is suitable for the procedure they wish to undertake.
Women who wish to undergo a mommy makeover procedure will have ideally finished bearing children. Mommy makeover patients should also have given birth at least 3 to 6 months earlier to ensure that the patient can safely undergo surgery. Additionally, Dr. Tattelbaum explains that this gives patients time to lose any pregnancy weight and allow for the uterus to return to its normal size.
To be suitable for the majority of cosmetic procedures it is important that the patient is healthy as this reduces the chance of post-procedure risks occurring and helps a patient to recover well after their procedure. Suitable candidates for the procedure will also be those who are close to their ideal weight, typically being within 30% of your ideal body weight or around 10 pounds from your goal weight is recommended. Even if liposuction and a tummy tuck are being performed as part of the procedure, these surgeries are not designed for weight loss but to help contour the patient's figure. Additionally, it reduces the likelihood of complications following the procedure and also allows for the best results.
What are the Benefits of a Mommy Makeover?
There are many potential benefits that our Washington D.C. mommy makeover patients can experience from having undergone their procedure. The procedure is customizable and each patient is able to resolve specific concerns across multiple areas of their body. This is one of the reasons why previous mommy makeover patients have rated the procedure a 95% worth-it rating on RealSelf. Further potential benefits of undergoing a mommy makeover procedure include:
Can treat a range of concerns in one procedure

Can help to restore your figure following pregnancy 

Increased confidence 

Addresses concerns over a patient's breasts and abdomen

Can have long-term or even permanent results 
Mommy Makeover Surgery
The surgery itself will completely depend on the individual procedures being performed and the specific surgical technique for that procedure. Generally, tummy tuck procedures are performed by creating an incision line along the bottom of the abdomen so that excess skin can be removed and the abdominal muscles can be tightened. 
Breast Implant surgeries can be performed by creating an incision line around the areola, under the breast or even in the armpit or the abdomen. Dr. Tattelbaum favors an incision under the fold of the breast as it tends to be the most predictable. Dr. Tattelbaum will show you the exact incision location during your consultation to ensure you are comfortable with both the procedure's technique and the resulting scar lines. After the incisions have been created an implant can be inserted. The incision site will then be closed with stitches and the breasts tend to be covered with gauze for the first few days of your recovery. 
Breast reduction and Breast lift surgeries have larger incisions that allow removal of extra skin and breast tissue as needed. Implants can be placed through these incisions as well. The incision site will then be closed with hidden  stitches and the breasts tend to be covered with gauze for the first few days of your recovery. 
Recovering from the different surgeries will also include individual aftercare instructions, recovery garments and varying lengths of time to heal. Dr. Tattelbaum will walk you through the recovery process and will be able to answer any questions you may have regarding aftercare. 
Mommy Makeover Cost Washington, D.C. 
The exact cost of your mommy makeover procedure will be determined by the specific surgeries you are undergoing and the individual surgical techniques being used. Therefore, the specific cost of your procedure will be given during your consultation with Dr. Tattelbaum once you have agreed on your chosen mommy makeover surgery. 
The average cost of the various surgeries often included in a mommy makeover procedure includes:
Tummy Tuck $8400 (includes frontal flank liposuction as needed)

Mini-Tummy Tuck $7,900 (includes upper abdominal liposuction as needed)

Fleur-de-Lis Tummy tuck $9400

Liposuction $4,600 first site

Liposuction $2,800 add'l sites

Breast lift $7,900 (stand-alone)

Breast Augmentation (saline) $5,600

Breast Augmentation (silicone) $6,600 includes implant funnel
Since a mommy makeover procedure combines multiple surgical procedures the total cost of your surgery may include a discount. There are various financing options available, call 301-804-6832 or 703-565-2658 for details or view our Fees Page. 
Mommy Makeover Before and After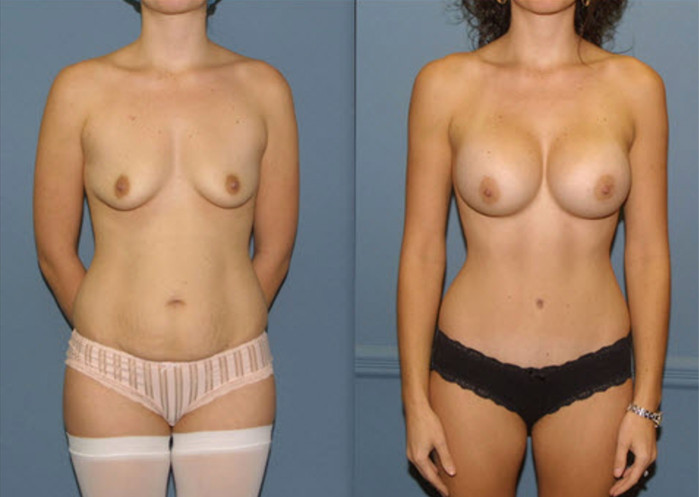 This post partum woman of two children lost the volume of her breasts after breastfeeding. The abdominal wall relaxed and the skin of the abdomen became loose. She underwent breast augmentation and full tummy tuck surgery with tightening of the abdominal muscles. The hips were contoured through power-assisted liposuction. In this particular case, the breast implants were placed through the tummy tuck incision which is under the underwear line.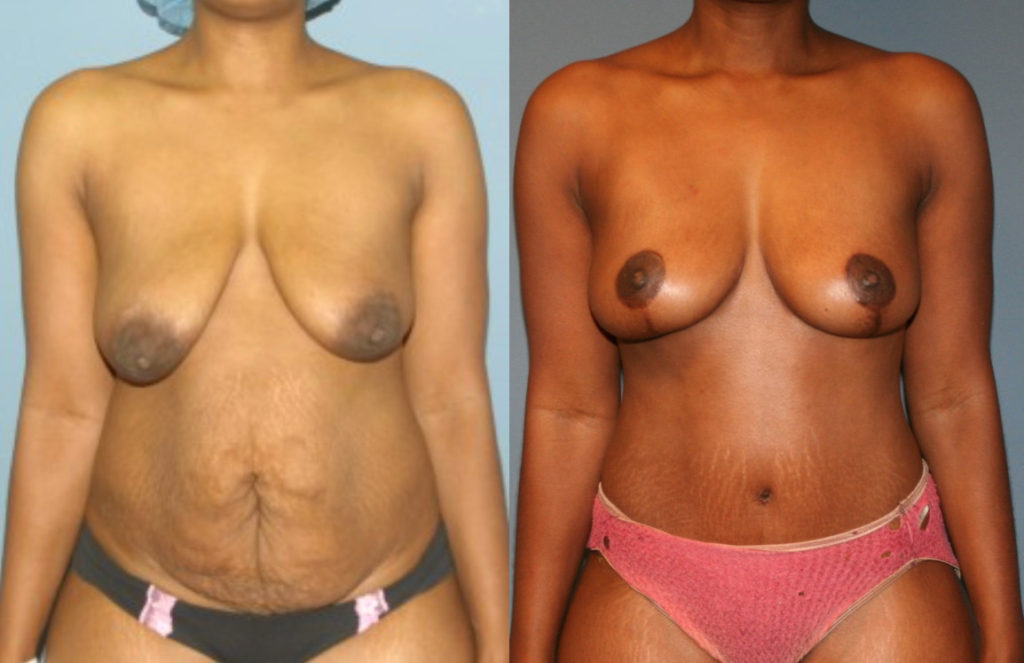 This post partum woman had a breast lift and tummy tuck as part of her mommy makeover.
Schedule a Consultation
If you are interested in undergoing a mommy makeover procedure, or any of the surgeries that can be included, you can book a consultation with Dr. Tattelbaum. Dr. Tattelbaum is a Double Board-Certified Plastic Surgeon whose practice centers around his patients and ensures they only undergo procedures which will best benefit them. For more information or to book a consultation to receive expert surgical advice from Dr. Tattelbaum Contact Us.
Directions from Washington D.C. to our McLean Office
Take M St NW and Connecticut Ave NW to K St NW (4 mins)
Head south-east on Scott Cir NW towards Rhode Island Ave NW

Exit the roundabout onto 16th St NW

Turn right onto M St NW

Turn left onto Connecticut Ave NW
Take George Washington Memorial Pkwy to Chain Bridge Rd in McLean
Take the exit towards McLean from George Washington Memorial Pkwy (13 mins)
Sharp right onto K St NW

Continue straight onto US-29 S

Turn right onto M St NW (signs for Key Br)

Use the right 2 lanes to turn right onto US-29 S/Francis Scott Key Bridge/Key Bridge

i. Continue to follow US-29 S, entering Virginia

Turn right to merge onto George Washington Memorial Pkwy

Take the exit towards McLean
Take Dolley Madison Blvd to your destination (8 mins)
Merge onto Chain Bridge Rd

Continue onto Dolley Madison Blvd

Turn left onto Beverly Rd

Turn right onto Fleetwood Rd

Turn left onto Elm St

Turn right

Turn left

Destination will be on the left
Directions from Washington D.C. to our Rockville Office
Get on I-66 W from 16th St NW, 17th St NW and E St Expy
Head south-east on Scott Cir NW towards Rhode Island Ave NW

Exit the roundabout onto 16th St NW
Turn right onto I St NW
Turn left onto 17th St NW
Turn right onto New York Ave NW
Continue onto E St NW/Rawlings Square NW
Use the left lane to continue on E St Expy
Keep left at the fork, follow signs for I-66 W and merge onto I-66 W
Take George Washington Memorial Pkwy, I-495 N and I-270 Spur N to Tower Oaks Blvd in North Bethesda. Take exit 4 from I-270 N
Merge onto I-66 W

Take the Arlington Blvd/G W Parkway exit
Keep right, follow signs for George Washington Memorial Parkway
Take the exit onto I-495 N towards Maryland
Keep left at the fork to continue on I-270 Spur N, follow signs for I-270
Merge onto I-270 N
Take exit 4 for I-270/Montrose Road
Keep right to continue on Exit 4A, follow signs for Tower Oaks Blvd
Follow Tower Oaks Blvd to your destination in Rockville
Turn right onto Tower Oaks Blvd