Breast Reduction Washington DC
Having large breasts can cause some women to feel insecure over their figure or even cause health problems such as chronic back pain. This is why many of our Washington D.C. breast reduction patients experience life-changing benefits from having undergone the procedure.
Breast Reduction Surgery
Dr. Tattelbaum understands that many of his Washington, D.C. breast reduction patients have been considering the surgery for a long time and often have reservations or fears about undergoing the procedure. This is why Dr. Tattelbaum always educates his patients to ensure they are fully informed and comfortable before booking a procedure. 
The benefits of breast reduction surgery can be significant for many patients as there is strong evidence that chronic back and neck pain can be alleviated by the surgery and the majority of women feel more comfortable after the surgery. This is why a breast reduction procedure has a 97% worth it rating on RealSelf by previous patients who have undergone the surgery.
Who is a Suitable Candidate?
It is important that all Washington, D.C. breast reduction patients have had their medical history evaluated to ensure their suitability for the procedure. Additionally, Healthline explains that breast reduction patients may be required to undergo a mammogram or other tests to ensure they are in good health. Factors that tend to make a patient a suitable breast reduction candidate include:
Being in good physical health

Have large breasts that they want reduced

Have one larger breast and desire a symmetrical reduction

Do not smoke
What are the Benefits of a Breast Reduction?
There are many potential benefits of a breast reduction procedure that can often be life changing for the patient. The American Society of Plastic Surgery explain that many patients biggest regret is not having had the procedure performed sooner due to the vast benefits of the surgery such as: 
Reduced back pain

Reduced shoulder and neck pain

The ability to exercise more comfortably

Improved posture

Greater flexibility with clothing

Improved symmetry

Often patients have increased confidence

Reduces chance of rashes or infections developing
How is a Breast Reduction Performed?
An average breast reduction procedure takes around two and a half hours to be performed, but the exact time will vary depending on the size of a patient's breast and the specific surgical technique being undertaken. There are multiple breast reduction techniques that can be performed depending on a patient's initial breast size and the extent of reduction they desire.
The procedure generally consists of making incision lines on the breasts, typically around the nipple in a straight line to the bottom of the breast then across the width of the bottom of the breasts. This allows for both skin and breast tissue to be removed from the breast before closing the incision lines with stitches. A free nipple graft is performed in some cases where a patient has very large breasts and desires a significant reduction. The free nipple graft involves removing the nipple from the breast and repositioning it. This is not necessary for most patients and will be discussed with you during your consultation if Dr. Tattelbaum believes it will be necessary.
Dr. Tattelbaum does not tend to use drains after a breast reduction procedure. However, if he feels they would be needed for your specific procedure this will be explained to you during your consultation so you are clear on the exact techniques being performed. Local anesthesia is administered at the conclusionof the surgery to help minimoze post operative discomfort. Patients may request Exparel for evan longer lasting pain control.
The breasts will take time to properly heal and to end up in their final position. The six months following surgery will be when the breast takes on its final shape, which is referred to as the rounding or settling process.
Breast Reduction Scars 
If a surgical breast reduction procedure is performed then scarring is an unavoidable aspect of the procedure. However, the specific surgical technique used to perform your breast reduction procedure will impact the incision lines used which will dictate the specific scarring from your procedure. The most common type of breast reduction procedure is referred to as the wise pattern or an anchor breast reduction since the incision lines are in the shape of an anchor. The incisions are made in a circle around the nipple before running in a straight line to the bottom of each breast and then running across the width under the breast. Dr. Tattelbaum will show you the exact placement of the incision lines that will be used for your procedure so you can decide if you are comfortable with the scarring your procedure will leave. 
Although the placement of a patient's scars will be known, the extent of each patient's scarring can be hard to predict as some patients will heal better than others as a result of their genetics. Despite this, there are steps patients can take after the procedure in order to minimize the extent of healing. For example, scar creams or oils can be used when your incision sites have healed to help your scars diminish. However, scarring will never completely fade and so Washington, D.C. breast reduction patients need to be aware and comfortable with the scarring if they are undergoing the procedure.
Breast Reduction Cost Washington, D.C.
A cosmetic procedure is defined as a surgery that is undertaken for aesthetic purposes, which is why most health insurance providers do not help to finance a cosmetic procedure. However, other procedures are performed for health reasons and so are medically necessary. For procedures that fall into the medically necessary category, some insurance companies may help to fund the patient's procedure. Therefore, some insurance providers will cover the cost of a patient's breast reduction procedure if it is being undertaken to resolve medical issues such as chronic pain.
However, many health insurance companies make this process extremely difficult for patients and will not always guarantee coverage. This is why Dr. Tattelbaum offers breast reduction procedures as a cosmetic procedure:
Breast Reduction $8,900 plus pathology fee – for cosmetic breast reduction only.
For more information on the cost of the various cosmetic procedures and surgeries available you can view our Fees Page.
Potential Risks
All cosmetic procedures come with the potential risk of complications following the surgery. For breast reduction surgeries, these may include:
Bleeding

Infection

Asymmetry

Nipple sensation loss

Skin loss
Additionally, patients should be aware that a breast reduction can in some cases prevent patients from being able to breastfeed and patients may lose nipple sensation. Although a standard breast reduction procedure does not tend to affect a woman's ability to breastfeed this cannot be guaranteed. Patients who would require a free nipple graft will not be able to breastfeed as the nipple is removed and repositioned. These patients will also lose nipple sensation. It is important that patients are aware of this possibility and are comfortable with this before undergoing a breast reduction procedure. 
Breast Reduction Before and After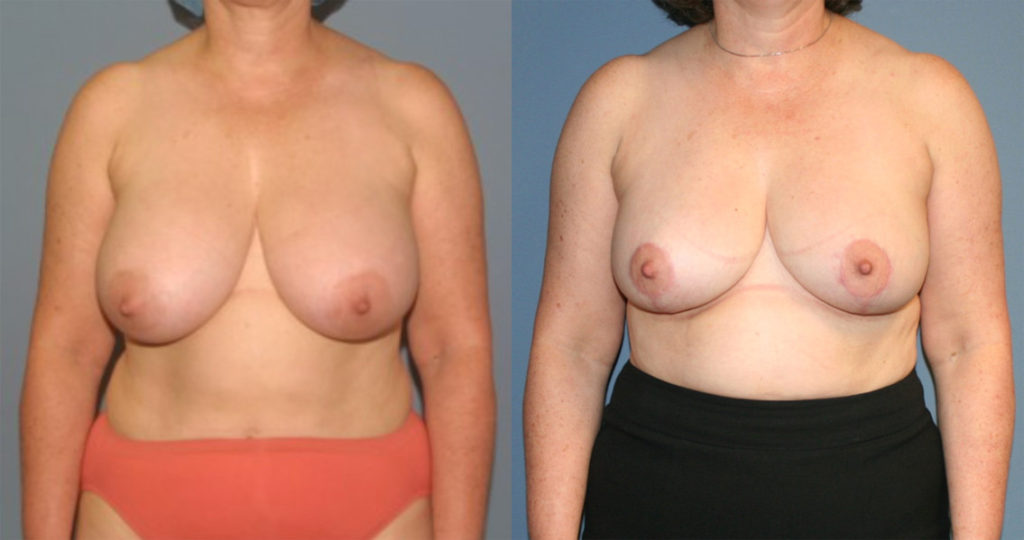 This 53-year-old woman before after (four months post surgery). About two and a half pounds of tissue were removed.
Schedule a Consultation
Patients who are interested in undergoing a breast reduction procedure should ensure they carry out research into all aspects of the surgery as well as see a Board-Certified Plastic Surgeon to have their needs assessed. Dr. Tattelbaum is a Double Board-Certified Plastic Surgeon who has vast experience in performing breast reduction procedures. Contact Us to find out more or book a consultation.
Directions from Washington, D.C. to our McLean Office
Take M St NW and Connecticut Ave NW to K St NW (4 mins)
Head south-east on Scott Cir NW towards Rhode Island Ave NW

Exit the roundabout onto 16th St NW

Turn right onto M St NW

Turn left onto Connecticut Ave NW
Take George Washington Memorial Pkwy to Chain Bridge Rd in McLean
Take the exit towards McLean from George Washington Memorial Pkwy (13 mins)
Sharp right onto K St NW

Continue straight onto US-29 S

Turn right onto M St NW (signs for Key Br)

Use the right 2 lanes to turn right onto US-29 S/Francis Scott Key Bridge/Key Bridge

i. Continue to follow US-29 S, entering Virginia

Turn right to merge onto George Washington Memorial Pkwy

Take the exit towards McLean
Take Dolley Madison Blvd to your destination (8 mins)
Merge onto Chain Bridge Rd

Continue onto Dolley Madison Blvd

Turn left onto Beverly Rd

Turn right onto Fleetwood Rd

Turn left onto Elm St

Turn right

Turn left

Destination will be on the left
Directions from Washington D.C to our Rockville Office
Get on I-66 W from 16th St NW, 17th St NW and E St Expy
Head south-east on Scott Cir NW towards Rhode Island Ave NW

Exit the roundabout onto 16th St NW
Turn right onto I St NW
Turn left onto 17th St NW
Turn right onto New York Ave NW
Continue onto E St NW/Rawlings Square NW
Use the left lane to continue on E St Expy
Keep left at the fork, follow signs for I-66 W and merge onto I-66 W
Take George Washington Memorial Pkwy, I-495 N and I-270 Spur N to Tower Oaks Blvd in North Bethesda. Take exit 4 from I-270 N
Merge onto I-66 W

Take the Arlington Blvd/G W Parkway exit
Keep right, follow signs for George Washington Memorial Parkway
Take the exit onto I-495 N towards Maryland
Keep left at the fork to continue on I-270 Spur N, follow signs for I-270
Merge onto I-270 N
Take exit 4 for I-270/Montrose Road
Keep right to continue on Exit 4A, follow signs for Tower Oaks Blvd
Follow Tower Oaks Blvd to your destination in Rockville
Turn right onto Tower Oaks Blvd