The How and When of the Mommy Makeover Procedure
The joy of having a baby is life-long. The changes it brings to your body can be temporary. A Mommy Makeover can make a dramatic difference in the post-baby look of your breasts and abdomen.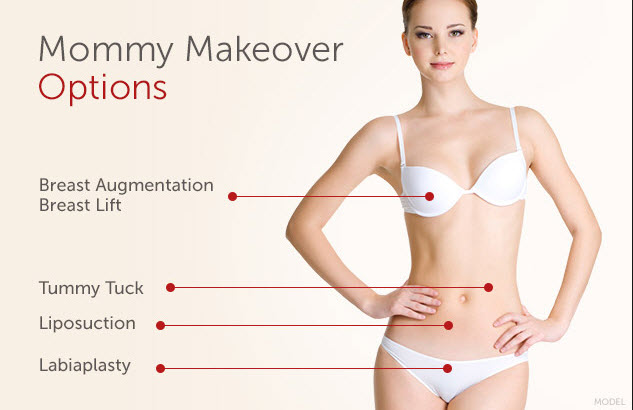 What Is a Mommy Makeover? Bearing a child and breastfeeding have an enormous impact on a woman's body. Officially called a postpartum restoration, a Mommy Makeover is a set of cosmetic surgery procedures that help give a mother's body the look it had before pregnancy. The Mommy Makeover addresses the changes by targeting the abdomen and the breasts:  Abdomen. The skin and muscles stretch to such a degree that exercise and dieting can't get them back to where they were before your pregnancy. An abdominoplasty, usually called a tummy tuck, tightens the muscles. This can be a full or mini-tuck. Additionally, liposuction can be used on trouble spots like the hips.  Breasts. Mothers notice that their breasts deflate or become droopy after pregnancy. During a Mommy Makeover, breast implants can be added to restore volume. Or a breast lift can give them back their old perkiness. Newer Methods, Quicker Recovery Recovery time for the newest Mommy Makeover procedures have made recovery quick and much more comfortable. Dr. Tattelbaum uses advanced quilting sutures in the area beneath the skin. That means abdominal wall drain tubes are a thing of the past. Pain is reduced and patients are up and about during the recovery period. No more staying in bed for a week or two. Though mom still needs help with the children for at least a week, she is able to take care o herself. That's a big improvement over the long recover that conventional procedures need. Actual Photos  Here you see photos of April, mother of two. She worked with Dr. Tattelbaum to define what she wanted to accomplish with her Mommy Makeover.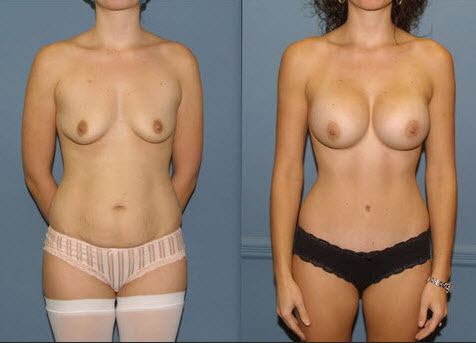 During the surgery, she had a full tummy tuck to deal with loose skin and abdominal wall. At the same time, April had augmentation surgery to give her breasts the volume they lost from breastfeeding. Liposuction gave a better shape to her hips. What to Expect It is important to be realistic about what a Mommy Makeover can accomplish. It can restore breast volume and looks and make your abs look much more fit. However, it can't get rid of all stretch marks or entirely strengthen the muscles in your abdomen. It is important to get rid of your baby weight before you have a Mommy Makeover. You should be practicing a healthy lifestyle, following a nutritious diet and exercising regularly. This will make the recovery faster and more comfortable. Recovery times vary, but you should be back to your routine in about a week. It is normal to feel tired for an extended period after surgery. You will eventually get back to your old energy levels. Take fitness gradually. Get back into your old fitness program slowly. Trust Your Body to an Expert  Adam Tattelbaum, M.D., has been serving the Rockville-Annapolis-McLean communities for many years. During that time, he has earned a reputation for genuine concern, attention to detail and excellent communication. Patients trust his advice because he is known for only recommending procedures with your best interests in mind. If he doesn't feel they are needed, he will tell you so. He works closely with each patient. He makes sure he thoroughly understands what is expected. He explains what  can be achieved and comes up with a treatment plan. No question is left unanswered. You will know what to expect, during the actual procedure and in recovery. Dr. Tattelbaum is a craftsman who uses state-of-the-art tools and training to sculpt the look you want. He is double board-certified by:
American Board of Plastic Surgery
American Board of Surgery
He is on the clinical faculty, and has taught, at Georgetown University. Active in both the American Society of Plastic Surgeons and the American Society for Aesthetic Plastic Surgery, he has been listed in "America's Top Surgeons," published by the Consumer Research Council of America. He has made the list of top plastic surgeons put out by Washingtonian Magazine numerous times. Call Dr. Tattelbaum today to discuss your Mommy Makeover.

August 15, 2016 7:34 pm
Categories: Blog, Mommy Makeover