Breast Augmentation Washington DC
Many Washington D.C. breast augmentation patients suffer insecurities over their breast size and desire an increase in volume. Other patients wish to enhance their breast symmetry or alter the shape of their breasts. This is why breast implants are customizable to allow each patient to choose the best implant type, shape and size for their surgical needs.
A breast augmentation procedure is performed to enhance a patient's breast size and has been given a 97% worth-it rating on RealSelf from previous bread augmentation patients. Breast implants come in various shapes, sizes and in different materials so that the procedure can be customized to suit each patient's needs and body shape. 
Natural-looking Breast Implants
The potential size of your implants will be dependent on your original breast size. Your starting breast shape and size affects the size of the implant to be placed. The size of implants\ is determined by the patients goals, starting size height and hips. Dr. Tattelbaum will be able to suggest suitable sized implants for your particular needs and body shape during your consultation.
Many patients desiring breast enhancement surgery request a natural-looking result. This can be achieved by choosing a suitable size for your figure as well as choosing a shape and projection that will look natural and suit your proportions. Dr. Tattelbaum will be able to help you to choose a natural-looking implant to ensure you feel comfortable with your result.
Gummy Bear Breast Implants
The material of breast implants varies and each brings its potential benefits. The two main implant materials are silicone and saline. Saline implants tend to have a silicone implant shell and are filled with a saltwater solution. Silicone implants also have a silicone shell but are filled with a silicone gel solution. This means that the feel of these implants will vary. Additionally, the implants have different FDA approved ages as those aged over 18 are FDA approved for saline implants but only patients over 22 are FDA approved for silicone implants. 
Gummy bear breast implants are a specific type of silicone implant that is filled with a thicker silicone gel and some are textured. Teardrop implants have the thickest silicone gel inside as it is important that the implant retains its specific shape. 
Teardrop Breast Implants
Teardrop implants are a specific shape of implant that some patients opt for since it helps them achieve a more natural result for their body shape. Since teardrop implants are smaller at the top and bigger at the bottom, the implant needs to remain in position to ensure the shape is achieved in the breast. This is why teardrop-shaped implants have a textured, rather than smooth, surface so that they can stick inside the breast and are more likely to remain in position. Most patients tend to choose round-shaped implants and Dr. Tattelbaum generally prefers to use these implants since their shape is not impacted if the implant rotates. 
Under Muscle Breast Implant Surgery
Breast implant surgery is performed by creating an incision line so that the implant can be inserted. There are four main incision sites that can be used including below the areola, underneath the breast, through the armpit or through a Tummy Tuck. Dr. Tattelbaum will discuss the incision sites possible for the type of breast implants you are having inserted and ensure you are comfortable with this site and any scarring. 
The implant will then be inserted and can be placed underneath or above the patient's pectoral muscles. Dr. Tattelbaum generally prefers to perform breast implant surgery under the muscle which is called submuscular, since it tends to achieve a more natural result. Additionally, this technique reduces the chance of a patient developing capsular contracture. 
The breast implants are inserted into the 'pocket' in the breast. If saline implants are used then the implants are filled once they have been inserted into the breast. Silicone implants are prefilled meaning that they are already filled before they are placed in the breasts. 
Who is a Suitable Candidate?
Those who are likely to be suitable candidates for a breast augmentation procedure will desire to enhance their breasts, alter their breast shape or increase the symmetry of their breasts. Some factors that might make a suitable Washington, D.C. breast augmentation candidate include:
Being in good physical health 

Feel insecure over their breast size

Do not smoke 

Are not breastfeeding 

Are the FDA approved age for the implant type they desire (at least 18 for saline and at least 22 for silicone implants)
Breast Augmentation Recovery 
Each patient is different but most Washington, D.C. breast augmentation patients tend to take about a week off work and are instructed to avoid strenuous activity for 3 weeks. After the surgery, it is normal for patients to experience swelling as well as pain in their breasts which is why pain medication tends to be prescribed after the procedure. We begin a massage regimen one week after surgery.
In general, the more muscular the patient and the larger the implant the more sore the patient is likely to be after their surgery. Additionally, Healthline explains that when the implants are placed under the muscle, patients tend to experience more tightness or aching in their chest as the muscles will need to stretch and relax. Dr. Tattelbaum advises that avoiding pectoral exercises a few weeks before surgery can make the recovery period easier.
Breast Augmentation Recovery Tips
Dr. Tattelbaum will explain the recovery process for your breast augmentation in more detail, and any questions or concerns can be addressed during your consultation. Some general breast augmentation recovery tips for patients include: 
Have your pain medication that has been prescribed easily accessible 

Make sure to get plenty of rest and sleep 

Organise your new wardrobe for after the surgery, have a bra that fits your new size

Stay well hydrated by drinking plenty of water

Avoid smoking or drinking any alcohol during your recovery

Wear loose clothing

Eat healthy foods 

Prepare your recovery area before undergoing the procedure

Cold compresses can be applied to the breasts to reduce swelling

Patients should try to sleep in an upright position so that fluid does not build in the ches
How much do Breast Implants Cost in Washington, D.C.? 
The exact cost of your breast implant surgery can vary depending on numerous factors such as the implant type, size, and shape. Dr. Tattelbaum has two different prices for saline and silicone implants:
Breast Augmentation (saline) $5,600

Breast Augmentation (silicone) $6,600 includes implant funnel
Many Washington, D.C. breast augmentation patients chose to combine their procedure with a Breast Lift to resolve issues over their breasts sagging in addition to their volume. For more information on the costs of other procedures, you can view our Fees Page
Breast Implants – Safety
Both saline and silicone implants have been FDA approved after extensive clinical testing has shown they are safe to use. This testing showed that despite prior fears, due to lack of information, silicone implants do not cause breast cancer or systemic diseases and many patients can safely breastfeed with these implants. For more information on the safety of breast implants please view our Breast Implant Safety Page.
Breast Implants  – Potential Risks
All surgical procedures come with the possibility of various risks occurring as a result of the procedure. Breast implant surgery has the potential risks of:
 Bleeding

 Infection

 Asymmetry

 Scarring

 Capsular contracture,
Breast Implants – Before and After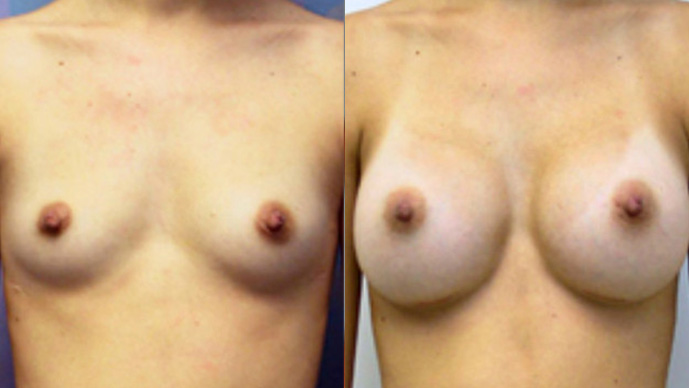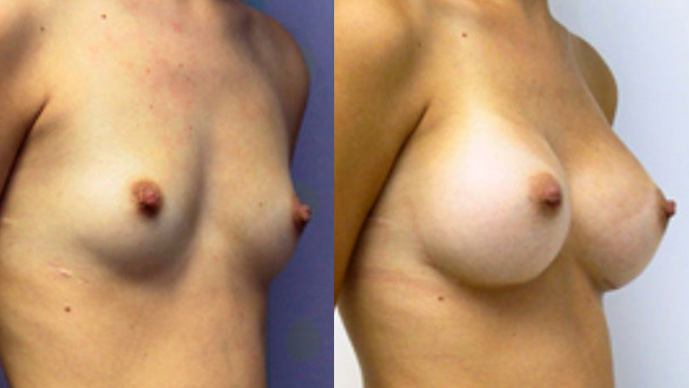 Common sense C size breast, sub muscular saline 330 CC where the curve of the implant balances with the curve of the hip.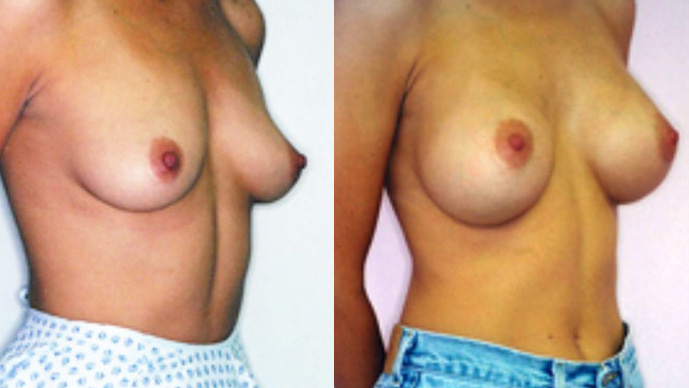 490cc sub muscular moderate profile. This is a large implant but this patient is tall and can carry the larger volume without looking overly implanty. In fact, she looks more natural than the previous patient because she starts with a B size breast which drapes over and helps to camouflage the implant. Again, the width of the implant gives curve under the arm which balances with the curve of the hip creating an hourglass figure.
Schedule a Consultation 
If you are interested in having a breast augmentation procedure to enhance your breast size you can book a consultation with a double Board-Certified Plastic Surgeon, Dr. Tattelbaum. Dr. Tattelbaum has vast experience as a breast surgeon and provides all his patients with honest surgical advice to help them achieve their goals. Find out more or Contact Us to book a consultation. 
Directions from Washington, D.C. to our McLean Office
Take M St NW and Connecticut Ave NW to K St NW (4 mins)
Head south-east on Scott Cir NW towards Rhode Island Ave NW

Exit the roundabout onto 16th St NW

Turn right onto M St NW

Turn left onto Connecticut Ave NW
Take George Washington Memorial Pkwy to Chain Bridge Rd in McLean
Take the exit towards McLean from George Washington Memorial Pkwy (13 mins)
Sharp right onto K St NW

Continue straight onto US-29 S

Turn right onto M St NW (signs for Key Br)

Use the right 2 lanes to turn right onto US-29 S/Francis Scott Key Bridge/Key Bridge

i. Continue to follow US-29 S, entering Virginia

Turn right to merge onto George Washington Memorial Pkwy

Take the exit towards McLean
Take Dolley Madison Blvd to your destination (8 mins)
Merge onto Chain Bridge Rd

Continue onto Dolley Madison Blvd

Turn left onto Beverly Rd

Turn right onto Fleetwood Rd

Turn left onto Elm St

Turn right

Turn left

Destination will be on the left
Directions from Washington D.C. to our Rockville Office
Get on I-66 W from 16th St NW, 17th St NW and E St Expy
Head south-east on Scott Cir NW towards Rhode Island Ave NW

Exit the roundabout onto 16th St NW
Turn right onto I St NW
Turn left onto 17th St NW
Turn right onto New York Ave NW
Continue onto E St NW/Rawlings Square NW
Use the left lane to continue on E St Expy
Keep left at the fork, follow signs for I-66 W and merge onto I-66 W
Take George Washington Memorial Pkwy, I-495 N and I-270 Spur N to Tower Oaks Blvd in North Bethesda. Take exit 4 from I-270 N
Merge onto I-66 W

Take the Arlington Blvd/G W Parkway exit
Keep right, follow signs for George Washington Memorial Parkway
Take the exit onto I-495 N towards Maryland
Keep left at the fork to continue on I-270 Spur N, follow signs for I-270
Merge onto I-270 N
Take exit 4 for I-270/Montrose Road
Keep right to continue on Exit 4A, follow signs for Tower Oaks Blvd
Follow Tower Oaks Blvd to your destination in Rockville
Turn right onto Tower Oaks Blvd