Breast Lift Washington DC
Naturally, over time a patient's breasts will drop in position and start to sag, causing many Washington D.C. breast lift patients to desire a lift to tighten and restore their breasts.  Breast lift procedures can help to increase many women's confidence and restore a more youthful appearance.
Breast Lift
Breast lift procedures are one of the most popular surgeries that Dr. Tattelbaum performs and many patients experience significant benefits from having undergone the procedure. The procedure is designed to restore a patient's breasts by tightening and lifting the breast tissue. This is why the surgery is frequently performed on women whose breasts have sagged over time or as a result of pregnancy or significant weight loss. The surgery has a 94% worth-it rating by previous breast lift patients on RealSelf due to the benefits of having undergone the procedure.
Who is a Candidate for a Breast Lift Procedure? 
During your consultation with Dr. Tattelbaum, he will assess your suitability for the various breast lift techniques. One of the most common questions Dr. Tattelbaum is asked is whether a breast lift can be performed on small breasts. Breasts of any size can be lifted and often the results last longer for women with smaller breasts. Factors that tend to make candidates suitable for a breast lift procedure include:
Desire lifted, tighter and firmer breasts 

Physically healthy 

Are a stable weight 

Do not smoke 

Are not pregnant or breastfeeding 
Types of Breast Lift Procedures
There are various surgical techniques that can be performed depending on the specific needs of each patient. Dr. Tattelbaum will recommend the most suitable technique based on your breast size and the extent of lift you require. The four most common breast lift techniques include:
Crescent Breast Lift– this technique is the least extensive surgical technique as it creates a small incision line, in the shape of a crescent or a semi-circle, around the nipple. This procedure is often performed alongside a breast augmentation to alter the position of the nipples. 
Donut Breast Lift– the incision line for this technique is created in a circle around the entire circumference of the nipple. This allows for a small lift to the breasts or can also be used to alter the position of the nipple alongside a breast augmentation.
Lollipop Breast Lift– the incision lines are created in the shape of a lollipop since they form a circle around the nipple and then create a straight line towards to the bottom of the breasts. Dr. Tattelbaum tends to opt for other breast lift techniques as this technique does not lift the breasts from top to bottom and so does not provide enough of a lift for many patients.
Full Breast Lift– this is the most extensive breast lift technique that tightens the breasts both vertically and horizontally. The incision lines are also the most extensive as the technique creates an incision around the nipple that extends in a straight line downwards before forming another line across the bottom of each breast. This allows for the most significant lift and results.
Breast Lift with Augmentation Washington, D.C.
A standard breast lift procedure is not designed to alter the volume of the breasts, it is simply performed to alter the position of the breasts. Many patients are happy with the size and volume of their breasts and so do not wish to undergo an additional procedure to alter their breast size. 
However, some patients wish to add volume to their breasts as well as have them lifted and tightened. This is why a breast augmentation procedure, such as breast implant surgery, is frequently performed alongside a breast lift procedure.  Brest implants give more fullness to the upper portion of the breast.
Conversely, some Washington D.C. breast lift patients wish to combine their breast lift surgery with a breast reduction procedure since they have concerns over the large size of their breasts as well as breast sagging. For patients who have large breasts, the results of a breast lift may not last as long due to their weight and so to optimize their results, some patients have a  limited reduction alongside the surgery. For some patients augmentation may follow reduction as a staged surgery.
Breast Lift Cost Washington, D.C. 
The exact cost of a breast lift procedure is dependent on the surgical technique being undertaken. Dr. Tattelbaum believes in cost transparency and so lists his pricing for the various types of procedure:
Breast lift $7,900 (standalone)

Periareolar lift $1500 (standalone local)

Breast lift $4,000 (additional w/ augmentation)

Breast lift (Peri) $1,500 (additional w/ augmentation)

Breast lift (Crescent) $750 (additional w/ augmentation)
If patients wish to combine their breast lift procedure with an additional surgery such as a Tummy tuck as part of a Mommy Makeover procedure then discounts may be offered for the combination of these procedures. To see a complete list of procedure pricing you can view our Fees Page.
What are the Potential Risks?
There are potential risks when undergoing any kind of surgical procedure. Some of the potential risks associated with a breast lift procedure outlined by the American Society of Plastic Surgery include:
Bleeding

Infection

Asymmetry

Loss of sensation in the nipple

Difficulty breastfeeding

Tissue loss

Infection

Fluid accumulation

Fat necrosis
All these will be explained and discussed during your consultation with Dr. Tattelbaum to ensure you are completely informed and comfortable before you book a procedure.
Breast Lift Before and After

This woman had a crescent lift one year after breast augmentation to give a slight elevation to the nipples.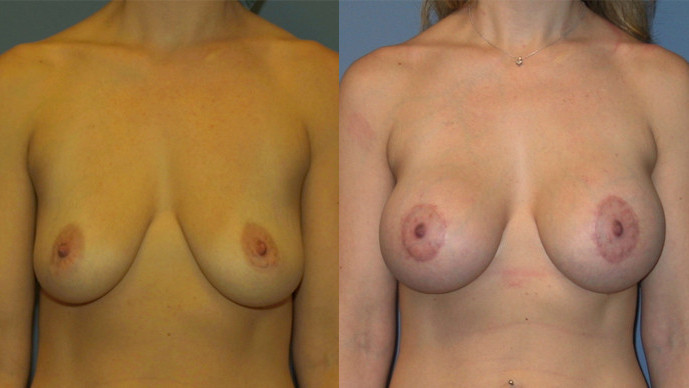 A periareolar lift was done to provide additional skin tightening that an implant alone could not provide.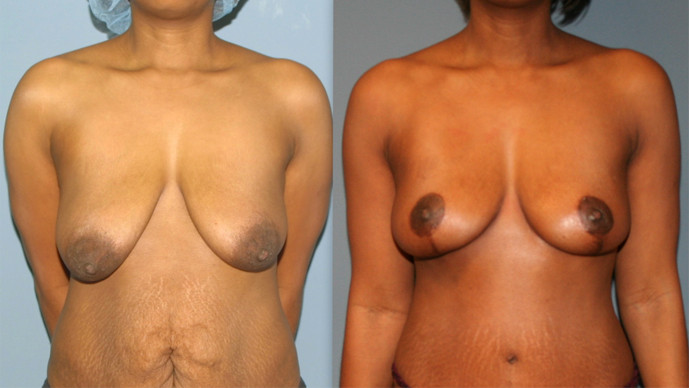 This patient had so much skin laxity that only a full lift would do the job. A full lift was necessary to remove enough skin to adequately tighten and elevate this patient's breasts.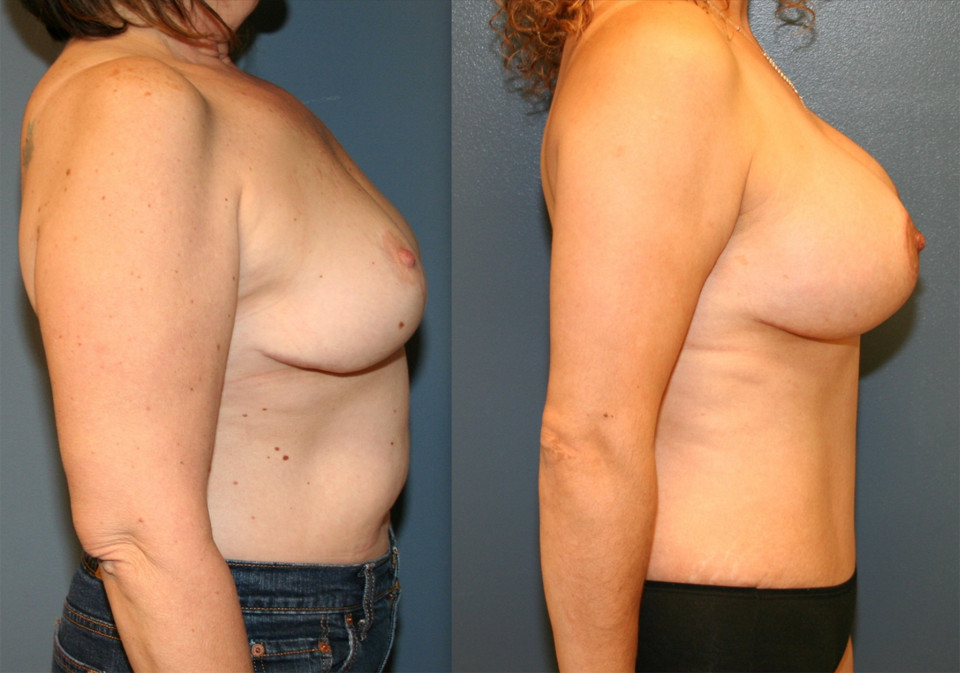 These images show the difference between undergoing just a breast lift and undergoing a breast lift with implants. The patient on the left had a breast lift and the patient on the right had a breast lift and augmentation. The breast on the left has a more natural look, while the breast on the right has additional volume which is often desired by patients.
Schedule a Consultation

Many Washington, D.C. breast lift patients spend years considering a breast lift procedure before deciding to book a consultation. It is important that any potential patients who are considering a breast lift procedure perform extensive research into all aspects of the surgery before making a decision. If you are interested in undergoing a breast lift procedure. Contact Us to book a consultation with Double Board-Certified Plastic Surgeon Dr. Tattelbaum.
Directions from Washington, D.C. to our McLean Office
Take M St NW and Connecticut Ave NW to K St NW (4 mins)
Head south-east on Scott Cir NW towards Rhode Island Ave NW

Exit the roundabout onto 16th St NW

Turn right onto M St NW

Turn left onto Connecticut Ave NW
Take George Washington Memorial Pkwy to Chain Bridge Rd in McLean
Take the exit towards McLean from George Washington Memorial Pkwy (13 mins)
Sharp right onto K St NW

Continue straight onto US-29 S

Turn right onto M St NW (signs for Key Br)

Use the right 2 lanes to turn right onto US-29 S/Francis Scott Key Bridge/Key Bridge

i. Continue to follow US-29 S, entering Virginia

Turn right to merge onto George Washington Memorial Pkwy

Take the exit towards McLean
Take Dolley Madison Blvd to your destination (8 mins)
Merge onto Chain Bridge Rd

Continue onto Dolley Madison Blvd

Turn left onto Beverly Rd

Turn right onto Fleetwood Rd

Turn left onto Elm St

Turn right

Turn left

Destination will be on the left
Directions from Washington D.C. to our Rockville Office
Get on I-66 W from 16th St NW, 17th St NW and E St Expy
Head south-east on Scott Cir NW towards Rhode Island Ave NW

Exit the roundabout onto 16th St NW
Turn right onto I St NW
Turn left onto 17th St NW
Turn right onto New York Ave NW
Continue onto E St NW/Rawlings Square NW
Use the left lane to continue on E St Expy
Keep left at the fork, follow signs for I-66 W and merge onto I-66 W
Take George Washington Memorial Pkwy, I-495 N and I-270 Spur N to Tower Oaks Blvd in North Bethesda. Take exit 4 from I-270 N
Merge onto I-66 W

Take the Arlington Blvd/G W Parkway exit
Keep right, follow signs for George Washington Memorial Parkway
Take the exit onto I-495 N towards Maryland
Keep left at the fork to continue on I-270 Spur N, follow signs for I-270
Merge onto I-270 N
Take exit 4 for I-270/Montrose Road
Keep right to continue on Exit 4A, follow signs for Tower Oaks Blvd
Follow Tower Oaks Blvd to your destination in Rockville
Turn right onto Tower Oaks Blvd